Follow These Best Practices in Your Automobile Dealership
Today's auto industry is fiercely competitive, and car dealerships of all sizes sometimes struggle to maintain a foothold in their local markets. The rise of digital retail has put a lot of pressure on dealers to modernize their internal operations, streamline their path to purchase and offer more personalized customer experiences - but adapting hasn't always been easy.
Let's be honest: best practices in automobile dealerships have a shorter shelf life than ever before. Keeping pace with shifting consumer preferences and expectations has become a complex balancing act, as different car-buying audiences tend to have different priorities.
Despite the obstacles, new vehicle sales topped $1 trillion in 2018, according to data from NADA, with over 16,500 franchised dealerships selling 17.22 million vehicles to U.S. consumers. So while attracting and preserving a sustainable customer base may be increasingly difficult, the payoff is well worth the effort. Of course, opportunities for building profitable relationships are not confined to new car sales.
NADA found that auto dealerships wrote upward of 310 million in repair orders in 2018 alone. What's more, fixed operations and vehicle part sales totaled around $116 billion during the same year. These figures help demonstrate that building a modern, convenient and customer-focused approach can not only accelerate an auto dealer's vehicle sales, but also supercharge its service departments. But which best practices in an automobile dealership should business owners prioritize?
Happy Customers and Profitable Dealerships
No matter what your specific business objectives may be, your customers are the most important piece of the optimization equation.
Understanding the needs and shopping preferences of consumers is the first step to improving the profitability of your auto dealership; it's also essential for building your brand and maintaining a positive image.
Considering nearly 59% of car buyers believe that reputation is the most important factor for choosing an auto dealer, there's plenty of incentive to bolster your public-facing activities. That said, maximizing customer satisfaction starts with a good deal of self-reflection about the sales, customer service, fixed operations and F&I strategies you're leveraging.
First, it's worth mentioning that digital retail and e-commerce have been disruptive to the auto industry. Car shoppers have a near limitless supply of information at their fingertips, allowing them to conduct their own independent research on vehicle performance, pricing and more. In fact, one Autotrader study found that car buyers spend close to 59% of their time researching online, from the earliest stages of the purchase cycle to the point of sale.
Some of the key digital activities include:
Looking up car prices (71%)
Browsing vehicles listed for sale (68%)
Comparing makes and models (64%)
Determining the value of their current vehicle (63%)
Locating and collecting information on specific auto dealers (46%)
While it's important to provide online shoppers with all the information they need to make an informed purchase, focusing too heavily on digital retail can actually be detrimental.
Neglecting in-store customer experiences is a losing strategy, as dealership walk-ins remain the most common form of initial contact for more than half of all car buyers, per Autotrader's study. Instead, car dealerships should focus on harmonizing their online and offline marketing, along with sales and customer service models.
By offering consumers several different (but overlapping) avenues for purchasing a new vehicle or scheduling maintenance and repairs, you can build a more effective digital-to-physical pipeline that will appeal to the widest possible customer base. To help you hone in on key improvement areas, let's take a closer look at some best practices in an automobile dealership that can have a positive impact on your bottom line.
Leave a Lasting First Impression
Car buyers are increasingly turning to online resources to help them evaluate vehicle makes and models, compare prices and learn about auto dealers in their area. The more your dealership can do to support the buyer's journey, the more likely customers are to visit your brick-and-mortar store.
However, running a stripped-down website stuffed with surface-level information does more harm than good. The first point of contact with new customers is a critical crossroads in the relationship-building process, which is why car dealerships should make their digital storefronts as transparent and useful as possible.
According to a report from Cox Automotive, third-party websites (78%) and auto dealers' web pages (53%) are the top two resources consumers use to guide their car buying journey. Imagine, for a moment, that a customer visits your dealership website to look up pricing information for a vehicle they're interested in. After clicking around for a few minutes, they notice that none of the vehicles have any price points, warranty information or customer reviews listed. This lack of data could be seen as a red flag, which may cause you to miss out on an easy sale.
Keep in mind, most consumers are anxious about working with traditional dealerships - most car shoppers believe their purchase journey will be a "hassle" and that retailers will prioritize their own objectives instead of offering a streamlined customer experience. Overcoming these expectations may seem like a daunting task, but increasing foot traffic to your dealership depends on a good first impression.
Word of Mouth Goes a Long Way
Although building an effective online presence starts with your dealership's website, attracting and retaining customers in the digital age requires a good deal of creative thinking. For example, how do you get car shoppers to visit your web pages in the first place? To answer this question, we first have to understand how social media and search engines fit into the bigger picture.
According to Danielle Shamos, vice president of revenue for the social media marketing firm Adaptly, close to 70% of consumers research their vehicle purchases on social networking sites before making a decision. More importantly, around 80% of car buyers stated that they trust their social networks for advice over a salesperson. So how can auto dealers promote their brand and make their online content more visible and engaging?
As pointed out by a recent market study by Adtaxi, the road to your dealership is not a straight path for a majority of car buyers, with most visiting aggregate websites (32%) or using search engines (30%) in the early research phases. This shopping behavior highlights the importance of SEO-driven marketing strategies, as ranking competitively in Google's search results is crucial for increasing traffic to your website and brick-and-mortar auto dealership.
In terms of social media, it's important to build an active presence that can be used to spotlight limited promotions, dealer's specials and in-store events - creating a throughline between your online and offline resources is essential for cultivating profitable relationships. One useful strategy is to encourage customers to post pictures of their new cars before driving off the lot, as this can help you capitalize on organic social media engagement. That said, the biggest marketing priority for auto dealers is increasing lead volume and conversions, which is why your in-store representatives play a pivotal role in your promotional strategies.
Building a High-Quality Workforce
No matter how effective your digital marketing efforts may be, the only way to turn visitors into customers is by staffing the right people in the right roles. High employee turnover costs auto dealerships billions of dollars per year, according to Automotive News, from lost vehicle sales and missed F&I opportunities to wasted recruitment and training investments.
These issues are only compounded by the evolving preferences of today's workforce participants - millennials now account for an estimated 60% of new hires in car dealerships, but many foster an acute dislike for fast-paced environments and commision-based compensation. Meeting the needs of this employment demographic will become increasingly vital as older generations are aged out of the workforce, but how can auto dealers attract and retain high-quality employees?
According to a recent Gallup study, the vast majority of millennial workers (55%) are not engaged in their current roles and are open to other employment opportunities. Filling your auto dealership with uninterested sales and service professionals can not only impact your profitability, but also devalue the customer experience.
That said, it can be difficult to locate and onboard candidates who have the skills, interpersonal abilities and attitudes you're looking for, which is why it may be time to rethink your recruiting practices and incentive programs.
To help reduce turnover and retain top talent, many car dealerships have started moving away from traditional employment frameworks that emphasize long hours and competitive salaries. Instead, auto dealers are focusing on creating a better work-life balance and offering more professional development opportunities. This is especially important for sales-based roles, as being typecast as a "car salesperson" can limit your employees' occupational mobility.
By providing your staff with additional training resources and personal development programs, you can demonstrate a commitment to their long-term wellbeing. This, in turn, can help increase your dealership's profitability through improved job satisfaction and employee engagement.
Breaking Down Internal Barriers
Teamwork is the bedrock of a successful auto dealership, as no single representative will ever have all the answers a car shopper is looking for. That's why promoting interdepartmental cooperation is key, especially between sales and F&I professionals. Breaking down the walls around siloed business segments is generally considered a best practice in automobile dealership, but restructuring your internal processes can be intimidating. Remember, the goal of process optimization is to eliminate inefficiencies that may negatively impact your bottom line. With that in mind, let's take a look at some useful strategies for promoting greater collaboration between your on-premises employees.
Competing for commissions can be a point of contention for vehicle sellers, as it often gets in the way of the end result. By aligning this compensation framework, you can promote a team-oriented work environment that is more likely to meet the needs of modern car buyers. For example, if one sales rep mishandles a customer interaction, a follow-up call from a different staff member may salvage the relationship. Research from Dealer Marketing Magazine found that these types of follow-ups end up converting around 25% of unhappy customers, which is no small feat considering the fixed-ops business it can generate down the line.
Another strategy is to provide your employees with coaching and shadowing opportunities in many different areas of your dealership. Teaching sales representatives about your fixed operations and vehicle financing products can encourage them to endorse these offerings in their sales process and avoid last-minute upselling. There's also the possibility that one of your employees may realize their talents are better suited to another department, which may help you retain high-quality workers long-term.
The truth is, every auto dealership is different, and there is no universal approach to guarantee profitability and growth. If it were that easy, every auto dealer with a computer would be seeing record sales and F&I penetration. So how can your car dealership achieve meaningful results without all the guesswork?
We understand that best practices in automobile dealerships are constantly changing, which is why we offer personalized consulting and training services focused on your business objectives. No matter how big or small your auto dealership may be, we can help you attract more customers, close more sales and improve the performance of your F&I professionals.


These may interest you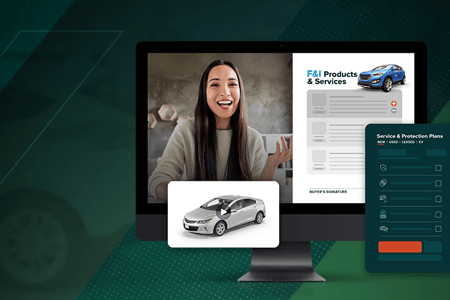 < 1 min read