Breaking Down the VFI Process
Whether you're seeking to complete an all-digital transaction or meet the needs of your in-store buyers, Virtual F&I (VFI) is a seamless, customer-focused way to achieve these goals. There is a clear demand from customers for a personalized, simple buying experience, and VFI is the final piece of that puzzle for dealerships.

Supporting digital retail transactions has never been more critical. The unprecedented and rapid disruption to auto sales caused by the COVID-19 pandemic has only made that need more evident and timely. And even as consumers return to shopping in-person at dealerships, buying online is likely to remain a key auto sales channel.
The 2019 Cox Automotive Car Buyer Journey revealed that in pre-pandemic conditions, 10% of customers negotiated prices online, and half as many filled out paperwork online. Although they represent a smaller pool of customers, they experienced a shorter and smoother buyer's journey, avoiding the most common frustrations car buyers experience in-store. With some manufacturers already competing through direct online sales, you must be ready to offer customers a digital experience they prefer.
Here's how it works:
The VFI Basics
VFI is very similar to traditional F&I. The sales representative still sets up a meeting with an F&I Manager, but that meeting is now a video conference enabled by technology. This allows for a great deal of freedom around when the session is scheduled, and also enables customers to do their own research and play an informed role in the transaction. These factors work toward the dealership's advantage, keeping the buyer happy and enabling a smooth purchase.
While some may try to fully automate this process, keeping an F&I manager involved in the process helps maintain continuity and has the potential to boost revenue through the F&I delivery, as noted by Automotive News.
The Steps of VFI
Carrying the VFI process through to completion will be a little unfamiliar to F&I Managers who have solely taken in-person meetings. With that said, most can adapt relatively quickly with some support and helpful instruction. Breaking down the VFI process into three general phases will help employees understand the best ways to get positive responses from their customers and turn VFI into an advantage.
Initial Contact and Setup
F&I Managers start by setting up the video meeting with the customer. While this process is relatively straightforward, you can ensure everything goes smoothly by talking through the benefits of VFI and offering any assistance the client needs. As part of your first contact with a customer over video conferencing, you should also check that they aren't having any video or audio issues. Providing this support requires F&I Managers to become very familiar with their technology platforms of choice.
E-commerce Guide indicated that companies regularly using video chat for customer interactions need to set up not just the technical requirements - a strong internet connection and a good camera - but the aesthetics of the calls. This means determining a good background to film in front of and ensuring noise doesn't interrupt the meetings. This level of professionalism and branding will enhance customers' F&I experiences.
Especially when talking about financial matters, you want to be as transparent as possible with your customers about what is going to occur and set accurate expectations. After a personal introduction, the manager should give an estimate of how long the whole process will take and say why the meeting is taking place.
Conducting the Interview
This part of the process is the same as it would be for an in-person F&I delivery. In other words, the manager establishes a personal rapport with the customer while also presenting each of the documents the buyer has to review and sign.
Building rapport in the limited amount of time available on a video conference means F&I Managers should be purposeful in their questions. Even simple queries such as whether the person has any other plans for that day can give useful information. For instance, a customer who has a busy schedule that day may become very unhappy if the call runs long, but will appreciate the F&I Manager being respectful of their time.
The negotiations to sell F&I products go more smoothly if F&I Managers can determine the attitude, preferences and needs of the customer. Gleaning this information through conversation is a skill to be practiced and refined, and employees just getting used to carrying out meetings over video chat software should work on doing this digitally. However, the importance of doing this well cannot be understated. Asking the right questions enables your customer to tell you information that's critical to your ability to customize a menu of F&I products specifically to suit their needs.
During the menu presentation, you can revisit the information they shared to underscore the value of the products you're recommending. By showing them all the options available as well as the products you're suggesting, it puts them in the driver's seat and empowers them to choose.
Closing the Sale
As with the pre-negotiation setup, closing a deal is all about setting and then meeting expectations. F&I Managers should determine when it's most convenient for a customer to receive the vehicle, and then make it clear when they will be expected to sign the final paperwork, make their down payment and take possession of the keys and title.
To ensure there has been no miscommunication, F&I Managers should then review information about the car. Reiterating the make and model of the vehicle, as well as its color and any add-on features, may seem unnecessary this late in the transaction. However, verifying this information one last time will ensure there are no surprises when the vehicle arrives.
F&I Managers should also review all the F&I packages customers picked during negotiations. Stating all this again clearly helps the buyer feel ownership over the situation. Rather than feeling forced into making a purchase, a consumer with all the information can be confident about signing for the car. Then, it's time for customers to digitally sign the Final Disclosure document and seal the deal.
Best-in-Class VFI Musts
To offer a good VFI experience to your customers, one that will fit seamlessly into both online and in-person transactions, there are a few musts. For instance, your dealership needs to have the technology to set up and carry out video conferences, as well as comprehensive informational and customer care features on your website. Employees must also grasp the best practices of VFI.
Working with JM&A to build out your VFI infrastructure is a great way to enable this modern kind of auto sales. Being competitive in the years ahead will require new approaches from dealerships, and streamlined digital processes are a major part of this new approach.

Download our ebook for a more detailed approach on VFI, and get in touch with a JM&A representative to start your technological and employee education journey to making Virtual F&I a reality.


These may interest you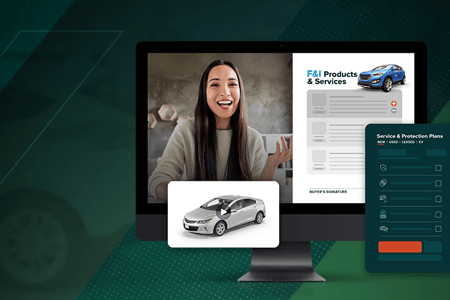 < 1 min read