How to Sell More F&I Through Sales and Service
The auto retail industry invests a lot of time and energy into formulating more effective car selling strategies, marketing campaigns, and customer retention techniques. And while these efforts are undoubtedly valuable, it's also important to emphasize the value-adding activities of other departments in your dealership.
U.S. auto sellers continue to depend on their F&I departments to increase revenue and secure long-term profitability. Vehicle maintenance and repair also play a pivotal role in car dealers' financial stability – more than 310 million repair orders were written in 2018 alone, totaling upward of $116 billion in service and part sales. Despite the clear benefits of strong F&I and fixed ops penetration, many dealerships struggle to introduce these offerings into the early stages of the car-buying process.
The difficulty of up-selling F&I products and vehicle maintenance is often rooted in how dealerships are structured and operated. By drawing boundaries between sales, service and F&I professionals, auto dealers often (unintentionally) create siloed business practices. Since collaboration between departments is essential to the overall success of a dealership, it's important to foster a culture of cooperation and avoid isolating key business segments. But how can established dealerships make the transition to a more unified selling framework?
Building an Effective F&I Ecosystem
Building an effective F&I ecosystem starts with creating a through-line between departments. Sales professionals should have a strong understanding of F&I products, rather than passing customers off at the point of purchase. By communicating the value of auto financing and insurance earlier in the conversation, dealerships can make a stronger case for the value of these supplemental offerings.
In terms of financing, many dealerships seem to be performing quite well. According to a 2019 report from FICO, U.S. dealers currently account for 63% of domestic auto loans. That said, recent trends in digital retail, third-party F&I platforms and ride sharing will likely cause major disruption in the years ahead. Staying one step ahead of these challenges won't be easy, as it may force auto dealers to rethink how their businesses are organized.
One of the best ways to improve interdepartmental collaboration is to offer employees plenty of training and upskilling opportunities. For example, allowing sales professionals to shadow with the F&I department can provide them with a fresh perspective on financing and insurance products, allowing them to transfer the trust and goodwill they've built with customers to the later stages of the buying process. On the flip side, offering members of an F&I department a chance to work with sales professionals directly can give them valuable time on the sales floor and a more accurate idea of today's consumers and their preferences.
The truth is that many F&I products do not offer an immediate, tangible benefit for car buyers to latch on to. Signing up for a vehicle protection plan doesn't make a customer's ride any smoother, but it does protect them when things go wrong. To get car buyers truly invested in additional coverage, sales and F&I professionals must be able to paint a clear and compelling picture that will speak to consumers from a range of generations and backgrounds.
Navigating the Path to Purchase
The modern car selling climate is rapidly evolving thanks to new digital-centric business models, shifting perceptions about vehicle ownership and emergent consumer behaviors. According to a recent study by Cox Automotive, car buyers are spending more time shopping online and are increasingly interested in used vehicles and alternative financing options. While many dealerships are notably anxious about the future of their industry, there are plenty of opportunities to capitalize on these and other trends within the market.
First, it's important to emphasize that the traditional path to purchase is undergoing a major transformation. Today's car buyers expect dealerships to provide a massive amount of information upfront, often through digital channels. This preference is quickly becoming the norm within the auto industry, and failing to meet consumer expectations could cost dealerships thousands in missed vehicle sales and F&I opportunities.
Think of it this way: Customers who have dedicated hours to researching on their own don't want to start from the beginning when they physically visit your showroom. Sales processes that acknowledge and accommodate independent research can help car buyers feel that their time was well spent. With that in mind, any resources you offer online or outside your showroom should seamlessly integrate with your physical, in-store experience.
Understanding the customer journey from end to end has become essential to how brick-and-mortar dealerships operate. By streamlining customer experiences, dealers are able to remove barriers that may prevent consumers from visiting the car lot in person. This is critically important, as Cox's study found that car buyers are visiting fewer dealerships before making a purchase. That said, filling a website with information on vehicle makes and models, add-on features and pricing estimates is only one part of the equation.
Rather than pushing F&I into the margins, auto dealers should look for opportunities to introduce finance and insurance options into the earliest stages of the auto-buying journey. Since dealership websites often represent a vital point of contact for new customers, it makes sense to include detailed information on F&I offerings alongside basic vehicle specs. Of course, simply mentioning an insurance plan or financing package won't persuade consumers of their value, but it will provide sales professionals with a stable footing when online shoppers visit the lot in person.
Despite consumers' clear preference for online shopping and e-commerce, less than 10% of vehicle buyers end up negotiating prices through online channels and only 5% fill out the paperwork digitally, according to Cox's study. This means that the vast majority of customers will visit a dealership before finalizing their purchases, which gives sales and F&I professionals another chance to upsell financing and insurance products. But how can auto dealers convince car buyers that F&I and fixed-ops services are worth the investment?
From Optional Add-ons to Must-Have Features
Another issue holding dealerships back from greater F&I and fixed-ops penetration is how their products are perceived by the average consumer. Delivering a canned sales pitch at the point of purchase won't have much of an impact if customers aren't interested in F&I products to begin with. Rather than treating financing and insurance offerings as optional add-ons, auto sellers should think about how these products can meet specific needs in the lives of their customers.
Generally speaking, improving F&I sales is all about personalization and efficiency. Today's car buyers don't want to spend hours in a dealership listening to an F&I seminar. By focusing on customer interactions and experiences, dealers can make F&I products more accessible and appealing to shoppers who may have otherwise opted out. Of course, this high level of personalization requires sales professionals to get to know customers on an individual basis and fully understand the benefits of the products they're selling.
Here's the thing: at the end of the day, car buyers are just regular people who need something. Understanding the what and why is the key to meeting or exceeding their expectations, and effective communication is the vehicle (no pun intended) for building lasting and profitable relationships.
These may interest you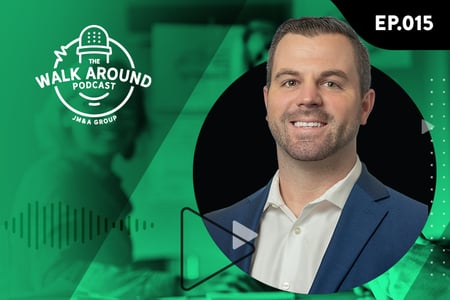 < 1 min read
Podcast