2 min read
operations | video
Taking a Look at Talent & Training in 2021
Kevin Hull, Dealer Talent Expert at JM&A Group, joined the Automotive News Retail Forum to explore current trends taking place in the industry.

Kevin breaks open the book on the current talent landscape inside the dealerships of today and explores what you can do to prepare for the future.

See for yourself how dealers across the country are looking at the hiring process differently.
0:04 - 1:25
In

your

mind what changed the most in the last 12 months?
There has been an undeniable shift of focus from volume. It's been a huge priority for the industry; selling more cars getting more customers through the door. Over the past year, since the start of COVID, it's been a shift from volume to quality. Dealers are understanding that engaging with the customer and increasing quality of leads can pay out far better.
As a result, we are seeing record numbers in profitability. There is also a shift in how dealers train and develop associates to meet these needs.
1:26 - 2:45
Has there been a structural shift as you look at staffing, talent, and training?
It's all about hiring for character.

We hear this a lot: "how do we find great people." There will be a huge shift towards building talent instead of buying it. If you build talent from within, retention increases, and the positive customer experience increases. Having talent that has great character is a better experience for everyone involved at the dealership.
2:46 - 3:42
Dealers have considered hiring from some of the more hard-hit service and hospitality sectors, which carry some transferable skills over to the front office operations. Have you experienced any of that and if so, how have you adjusted training?
"Digital transformations allowed collaboration to boom within the dealership. Allowing individuals who are active listeners and technologically savvy to shine. Training has shifted but only because we are able to identify individual's behavior and in turn can predict how they will adjust and react allowing us to enhance their positive behaviors."
3:43 – 5:33
Does greater efficiency alter training? How has your world altered around training and the rise of Virtual F&I?
"Training has not become less important, but it has changed. A benefit of working at JM&A Group is we have access to droves of data that can show us how shifts within the industry will affect dealers delivering F&I at every level. With over 8,000 virtual deals delivered there is no doubt that training had to evolve in order to adjust to that."
5:34 – 6:22
Is Virtual F&I here to stay?
"Not only is Virtual F&I sticking around, but it may also change staffing models completely. For larger auto groups, you can have a centralized office where you are reducing your F&I manager head count drastically. This brings a more efficient and streamlined approach."
6:23 – 8:16
What sticks out to you as we think about staffing and dealership training going forward?
"It's going to change. With so much changing now across the industry with respect to technology there is no doubt big shifts are coming. Something JM&A Group is really focused on is the technician shortage. Every year 75,000 technicians exit the space, and we only replace about 35,000 so that gap is going to continue to grow.

Things like augmented reality and guided workflow allow us to look at the technician role differently. These innovations are going to keep us on our feet going forward and can change how we approach people and tech.

One thing that will remain true is the need for a solid people strategy going forward."
These may interest you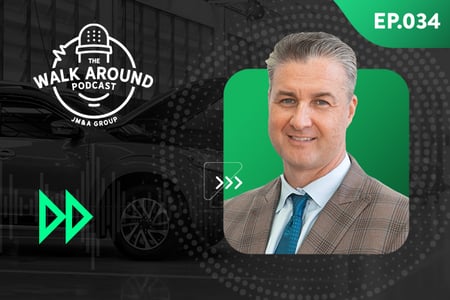 1 min read
Podcast