27%
Employees with 5+ Years Experience with the Auto Group
Located 45 minutes from Raleigh, North Carolina, the three-rooftop Hubert Vester Auto Group employs 200 employees, with 145 working there full time. Staff retention is remarkable: 27% of employees have five or more years of experience. To ensure this trend would continue for the next five years and beyond, the business decided to deepen its relationship with its longtime F&I partner, JM&A Group.
The retailer has worked with JM&A Group on F&I matters for 15 years. This close collaboration has now expanded to help the Hubert Vester group manage its current talent and find ideal new hires.
The Challenge
Modernizing the people management process
Despite having a strong track record with staff management, the team at Vester decided to implement new tools and methodologies that could help keep the dealership on the right path for years to come.


The goal was to increase staffing to 150% of its current level, from 200 to 300 employees, within five years. During this rapid growth period, leaders wanted a way to both hold onto their current sales leaders and replicate the same skill sets that make those employees so valuable.
How can managers be sure a new hire will match up with the types of abilities that have driven so much success? This is an especially pertinent question when, as is the case with Vester, a dealer prefers to hire candidates from outside of the auto space and develop their knowledge in the ins and outs of car sales.
Essentially, what the dealership group sought at the beginning of 2021 was a way to become intentional about its strong company culture, using data to quantify and reinforce its employees' best qualities. Using this information, hiring managers would be able to screen new talent and ensure the latest employees share values with current top performers.
The way forward came from JM&A Group's Dealer Talent Services (DTS) offerings. By leveraging The Predictive Index® (PI), a pioneer in Talent Optimization technology, to determine which behavioral "quadrant" a person belongs to, colleagues can tailor their work styles for effective teamwork. The PI also acts as a powerful recruitment tool, which Vester's leadership team eagerly embraced.
The Solution
Implementing bi-weekly leadership coaching with Dealer Talent Services
JM&A Group DTS' work with Vester features in-depth use of The Predictive Index. At its heart, The Predictive Index is a behavioral assessment tool. The PI tabulates factors such as a person's collaborative work style, approach to overcoming challenges, social ability and more. The PI is easier to add to a company's processes than other, similar tests because taking it is quick and painless: In under 10 minutes, an employee or candidate can receive a score.

The team at Vester had a wide selection of employees take the PI, and it immediately began to deepen teamwork. Now, when staff members have disagreements or differences of opinion, they can use their insights about themselves and their teammates to mediate the discussions.
Due to the actionable nature of The Predictive Index's personality insights, even siblings with a lifelong connection, one a dealership manager and the other heading up HR, were able to put their communication in a new context and deepen their bond.
From formal coaching structures to everyday collaboration in meetings, the DTS combined with Predictive Index results can change the way dealership employees work together. Even relationships that are sometimes contentious in the auto dealership world, such as between fixed and variable operations sellers, can go smoothly when all stakeholders know who they are and who they're speaking to, personality-wise.
With access to this deeper employee information and in collaboration with the DTS team, Vester is able to pursue an important goal: The leadership team is interested in ensuring that, even as the team grows, the dealership has hired employees whose function matches their personality and capabilities.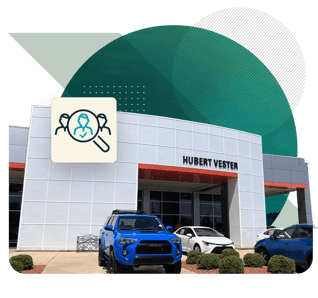 The current right-person-right-seat ratio at the dealership is 80%. This means four out of every five employees are ideally suited for the role they are fulfilling, according to the data. Workers in their perfect jobs can accomplish more and keep their customers happy. This is a trademark of Vester's operations (and one the dealership group is keen to maintain as it grows).
With the assistance of DTS, leaders can quantify which traits of their current employees they would most like to find in new hires. If they could clone their current workers, rhetorically speaking, which would they duplicate, and why? Armed with optimal personality profiles, hiring managers now use the PI as part of the interview process, paving the way to continued high performance.
The Results
Retention now, readiness for the future
The present hiring drive at Vester is designed to bring in 100 new employees, bringing the total staffing to 300 people. If the company can maintain its ratio of 80% of employees in the right seat, that will equal 240 workers ideally suited to their jobs.
4/5
Right-person-
right-seat Ratio
240
Workers Ideally
Suited to their Jobs
The company has had its strategic plan and core values in place since 2017 and has spent the years since building to this period of growth. Now, it has the data-based human resources methods it needs to maintain its pattern of engaged staff and effective service. The bond between Vester and JM&A Group remains strong.
Communications take the form of both bi-weekly calls and one-on-one discussions specifically around Vester's talent strategies. Because JM&A Group gives each client a dedicated representative, Vester leaders know they'll be talking to the same person week to week, enabling them to build a relationship based on trust and collaboration.

That sense of collaboration is key. Together, Vester and JM&A Group Dealer Talent Services honed in on something that was already strong and important to the dealership: its company culture and ability to retain high-performing employees. Adding a dash of data and strategy to that people management process has made it scalable, preparing the three-rooftop group for fruitful years to come.