4 min read
operations | blog post
How Car Dealerships Are Adapting to Meet Millennial Expectations
By Danny Vendrell | Jul 10, 2019
If you've spent any time working in the auto retail industry over the last few years, chances are you've noticed a shift in how dealerships operate. The tried-and-tested business models of the past are starting to fall out of practice, giving way to more personalized customer experiences. But what's causing this transformation within the marketplace?
Although it might come as a bit of a shock, millennial consumers are having a major impact on auto dealers' approach to sales, marketing and customer service. Many experts had written off this generation of buyers years ago, believing they would have little enthusiasm for vehicle ownership. Many experts were wrong.
According to data compiled by Experian, the consumer credit reporting company, millennials accounted for all new vehicle sales growth throughout North America during the first quarter of 2018. These results have shattered previous expectations and created new opportunities for forward-thinking business.
At a time when auto dealers are grappling with increased margin compression and high operating costs, millennial car shoppers represent a valuable source of profitability and growth. But capturing their business is another story.
For one... the wide availability of online resources and digital-first retailers has introduced more competition into the fray. This has made it difficult for dealers to stand out from the competition and establish their brands.
Considering close to 40% of all new vehicles will be sold to millennials over the next 10 years, per research from Deloitte, there's never been a better time to reassess your priorities. But how can auto sellers adapt their sales and F&I practices to appeal to the millennial generation?
Understanding Millennial Buying Trends
The first step to making meaningful changes to your sales process is to understand what millennials value and how they shop for new and used vehicles. For example, a study from Cox Automotive found that millennials typically have a set budget in mind before they ever step foot in an auto dealership.
They also prefer making monthly payments over purchasing a vehicle outright. While this may be great news for your F&I department, there's a lot more to capturing their business than offering competitive finance packages.
Millennials place a lot of value in seamless buying experiences. They want to be able to purchase a vehicle on their first visit to a dealership with as little fuss as possible. But applying too much pressure can be counterproductive and may lead to missed sales opportunities. Rather than focusing on the outcome, dealers should instead prioritize active relationship building and responsive customer support.
One of the defining characteristics of millennial car shoppers is the way they research online. This generation practically lives online. Most spend around 17.6 hours or more researching online before purchasing a vehicle, according to data from Autotrader. This includes browsing vehicle makes and models, exploring add-on features, investigating customer reviews and more.
And while many turn to third-party rating and review sites when looking for information, the role that social media plays cannot be understated. Millennials often use platforms like Facebook and Twitter to gain authentic perspectives on cars they're interested in. The more buzz a specific vehicle has, the more likely they are to follow through with their purchase.
By the time millennial consumers walk into a dealership, chances are they have a good idea of what they're looking for and how much they plan to spend.
But how can you persuade them to pay you a visit?
4 Useful Tips for Attracting and Retaining Millennial Customers
Despite the efforts businesses have made to simplify the car buying process, shoppers of every age still have a negative perception of auto dealerships.
But research from CDK Global found that millennials often have a higher opinion of auto sellers than those in the Baby Boomer and Gen X generations. Before you celebrate, it's important to point out that there are still a number of barriers that may prevent you from capitalizing on this positive outlook.
To maximize your chances of attracting and retaining millennial customers, remember these key strategies:
1. The customer is (usually) always right
One of the best ways to build trust and credibility with millennial car buyers is to respect the time they've dedicated to online research, by acknowledging and validating it. Sales representatives should hold off on recommendations until customers have had a chance to explain their exact needs and preferences. Asking specific questions about their research may also help form a meaningful connection in the early stages of the negotiation process.
This personalized approach can reassure millennials that their knowledge and experience is valuable. It can also help dealers establish a firm foundation to support future vehicle sales and fixed ops purchases. Remember, millennial shoppers don't want to waste any more time than is absolutely necessary, so don't rush the relationship building.
2. Social media buzz matters
Social media can be a bit of a double-edged sword.
One one hand, these platforms have allowed businesses to advertise their products and grow their brands like never before. But they've also introduced more competition and noise into the auto marketplace. If you spend more than a few minutes browsing dealership pages on Twitter, there's a good chance you'll start to notice a lot of overlap in their marketing strategies.
Remember: When it comes to social networking, consistency and creativity are essential.
A basic social media presence may help millennials locate your dealership and learn about your business, but visibility alone rarely translates into profitable outcomes. Rather than posting for the sake of posting, try focusing on developing engaging and genuine content that speaks to millennial audiences.
Keep in mind, the ultimate goal is to attract tech savvy car shoppers through personalized interactions. A single positive online experience could motivate a user to visit the dealership in person.
3. First impressions last
While it's true that millennials spend most of their time on third-party websites and social media, auto sellers shouldn't underestimate the value of online content. According to a survey from GDK Global, close to 62% of millennial car shoppers report using dealer websites as a primary source of information. So providing users with transparent resources that aid their independent research could very well score you a sales lead.
That said, any information or vehicle prices listed on your website must be consistent with your in-store materials. A lack of consistency can not only lead to missed sales opportunities, it may also damage your dealership's reputation.
4. Believe it or not, customers are people too
Securing consistent profitability and financial growth is all about building meaningful, long-term relationships that extend beyond the point of purchase.
Auto sellers who are primarily concerned with unloading their inventory often miss out on potential upsells and F&I opportunities. To avoid this costly oversight, dealerships should transition to the sort of people-focused sales and service models that resonate with millennial buyers.
Not customer-focused, people-focused.
According to research from Accenture, more than 95% of millennials want brands to actively "court" them and make an effort to retain their business. Of course, this can be difficult if your team isn't willing to get to know customers on a more personal level. Keep in mind, the time you spend forming genuine connections with millennials can pay off a hundred times over through word-of-mouth marketing and repeat business.
Attracting and retaining millennial customers will become increasingly important as U.S. car buying demographics continue to shift. That's why the experts at JM&A Group offer personalized consulting and training services that are focused on profitability and growth.
These may interest you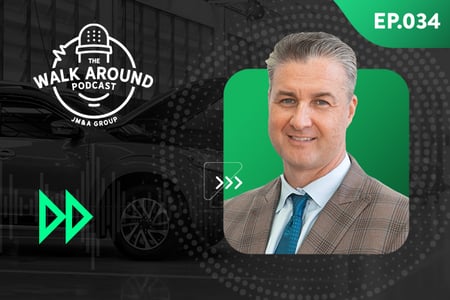 1 min read
Podcast