4 Benefits of Virtual F&I Sales
Virtual F&I (VFI) meetings are a modern approach to an established part of the vehicle sales process. Products typically sold through in-person meetings are now being handled via video conferencing software. While implementing a new process change at the dealership level can sometimes be met with resistance, Virtual F&I can have numerous advantages, giving the car-buying public a customer experience that matches their expectations, and may even lead to greater long-term loyalty and engagement.
Add these customer experience enhancements to the fact that VFI is a cornerstone of the all-digital vehicle sales process and the value of these digital processes becomes clear. To help ensure your dealership is going to thrive in the years ahead, it's important to think about the implications of VFI now.
4 Unique Advantages of VFI
VFI is part of the future of auto retail, so it's vital to understand its short- and long-term benefits for your dealership. By being aware and planning for them, you can get started with VFI now and accelerate your organization's transformation.
1. VFI Enables a 100% Online Car Buying Experience
While the vast majority of auto transactions still involve in-person experiences, from showroom browsing to test drives and paperwork, all-digital buyer's journeys are still a guessing game for many dealers. A Deloitte study from 2019 found 60% of people in the U.S. are interested in the concept of an online car-buying transaction directly from the original equipment manufacturer. To suit these customers' interests, your dealership should consider its digital readiness. The social distancing measures associated with the COVID-19 global pandemic also underlined the importance of offering buying processes that minimize human contact.
With that said, F&I has always been a sticking point for wholly digital transactions. For those customers looking for an online experience, requiring an in-person F&I meeting can fragment your digital retailing journey. The rise of VFI in car finance and insurance sales may very well represent the final item your dealership needs to check off before it can offer digital retailing options. As with anything in your dealership, a successful process is the key to ensuring customer satisfaction.
Whether or not you aim to deliver a fully online experience, consider this. In the last several years, the average dealership's gross profit on vehicle sales has dropped, while the gross profit on F&I sales has increased. This further emphasizes the need for a convenient, customer-friendly approach to F&I, and VFI delivers just that.


2. Video Conferencing Enables Ample Opportunity to Empathize with Customers
One reason why F&I Managers may resist enabling VFI in their workplaces is the worry that one of the key parts of a F&I meeting - connecting with customers to maximize their purchases and build lasting rapport - is more difficult via video conference. Fortunately for all parties, remote meetings don't stop F&I Managers from understanding shoppers on this level and, in fact, provide opportunities for them to sharpen their outreach efforts.
If there is strong enough integration between all parts of the dealership operations - online and in-person - VFI Managers have data to work from when preparing for their meetings. By combining this information with the same types of questions that guide F&I processes in person, they can lead customers to products that fit their unique situations. Furthermore, with buyers potentially feeling comfortable due to their own ability to do independent F&I product research around the video meeting, they may buy more than they would in an in-person setting.
3. VFI Introduces Opportunities For Increased Revenue Streams
Having a strong rapport with clients in a video conference doesn't just lead to a replication of the in-person F&I process. Ideally, VFI Managers can take advantage of these convenient and data-driven conversations to make critical upsells, laying the groundwork for future fixed operations and service profits. This is a crucial step in creating a relationship, building trust and maximizing the opportunity to increase profit margins at key opportunities. Between NADA's 2018 and 2019 industry reports, service and parts rose from 11.9% of total dealer revenue to 12.4%.
In addition to upsell opportunities, your dealership can use Virtual F&I as a potential tool to hold onto customers who may resist traditional in-person sales processes. Customer experience in general, across nearly all segments of retail, has favored a convenience-first model that focuses on speed and limited need for in-person dealings. While auto retail has largely been behind this trend, there are clear benefits to getting on board with it to help you retain customers who may otherwise disengage from the purchase process.
4. VFI Fits Into a Strong, Unified Dealership Model
Despite the fact that VFI is a drastically new take on an important part of the car buying process, it doesn't have to be a disruptive force in the dealership workflow. In fact, it can fit neatly into the F&I Manager's current duties, enabling them to increase their reach with customers. When team members have the right training on how to execute VFI processes effectively, they can engage with customers who prefer streamlined, online transaction styles as well as brick-and-mortar sales.
Maximizing the value of VFI requires alignment between your dealership's online resources and the in-person experience. This is not a bad thing, however, as such alignment will enhance the customer experience and buyer's journey overall. Consumers today have become used to connecting with brands online and in-person and receiving seamless, consistent service. Delivering this level of excellence is a goal your dealership should be aiming for.
How JM&A Group Helps You Master VFI
Your journey to a more digitally enabled and future-proof organization starts with a two-pronged approach to enabling VFI. The technological component involves creating consistent processes across your online and in-person processes, with reliable and actionable data collection and analytics. This involves optimizing your website and creating the portals personnel will use to communicate with customers. The human resources side of the equation involves training for your team, especially VFI managers but also other individuals involved in the sales process, to ensure they understand the best application of VFI.
JM&A Group is an ideal partner for these strategic changes. Despite the newness of Virtual F&I as a concept, our experts have already begun working with dealerships to enable Virtual F&I in ways that get results. From designing an implementation roadmap that will guide the process to training essential staff members and providing ongoing performance monitoring, the JM&A team helps you reap the benefits of VFI.
These may interest you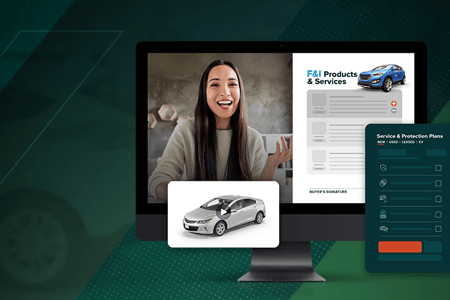 < 1 min read