2 min read
F&I | blog post
E-signatures and Virtual F&I: Key Pathways to Paperless Car Buying
By Amanda Pliskow | Aug 31, 2021
The practice of using e-contracting tools and electronic signatures to complete auto purchases online was already gaining steam prior to the pandemic. But these tools became vital for closing deals in a safe and timely way amid unprecedented restrictions on face-to-face interaction.
Unfortunately, some states still require wet signatures for auto sales. Dealerships in these states were put at a steep competitive disadvantage following Covid-19-related shutdowns.
To even the playing field, more states have changed the rules and started accepting virtual signatures instead of wet signatures for documents for auto sales, loans and leases.
In an exciting development, California recently announced that certain dealerships can accept digital signatures for new vehicle purchases. This move allows nearly 40 million Californians to have a completely paperless car buying experience from their computer or smartphone.
As a result of the growing acceptance of digital signatures, Virtual F&I (VFI) is quickly gaining popularity. Making digital F&I paperwork available both in your showroom and on your website could put you a step ahead of the competition.



Why is VFI especially important now?
Car shopping has largely become an online activity. A Deloitte study from 2019 found that 60% of people in the U.S. are interested in online car buying. Research from Cox Automotive, also from 2019, found that 83% of consumers want to complete at least some of the purchase process online, and 70% are more likely to buy from dealerships that offer this functionality.
And those are pre-pandemic numbers. Covid-19 has only accelerated the need for digital purchase pathways as fewer people visit brick-and-mortar dealerships in person. Car sales plummeted 70% when dealerships were forced to close their doors for stay-at-home orders, and even with areas reopening, foot traffic is still way down.
Dealerships that don't include F&I as part of their online car buying capabilities are missing out on a valuable revenue stream from a growing portion of their customer base. Therefore, implementing streamlined virtual F&I infrastructure and processes is becoming increasingly important.
What are the benefits of VFI?
Virtual F&I empowers you to capitalize on online auto sales and increase revenue. And the benefits of VFI aren't limited to purchases that happen entirely online. By replacing printed paperwork and giving F&I managers and customers more communication options, VFI introduces flexibility into the F&I journey.
Here are some ways that added flexibility can help you grow your customer base and improve sales performance:
Actively support car shoppers' independent research — Buyers feel more comfortable when they can do research at home during a video meeting.
Improve access to F&I information for new and existing customers — Demystifying the F&I process makes customers understand that they're getting a fair shake from their salesperson.
Allow dealers to introduce F&I earlier in the sales process — By introducing finance terms into the conversation early, you give the customer time to understand the benefits, coverage and associated costs of F&I products.
Enable greater personalization for both online and in-store customers — VFI allows managers to parse through data to prepare for conversations both online and off. Plus, video conferencing also offers an opportunity to empathize with the customer better than on the phone.
Conclusion
For auto dealerships in states where digital signatures for auto sales are accepted, implementing and improving virtual F&I processes should be a top priority.
And even if your state doesn't currently allow 100% online car purchases, virtual F&I can help streamline the traditional car buying process into a seamless, customer-focused digital sales experience.
Better yet, you don't have to figure out the tech all on your own. JM&A is the only provider offering a fully digital F&I process with the training and support to help you maximize each deal, whether online or in-store. And best of all, we can bring our experience to your existing technology to make it all happen.
These may interest you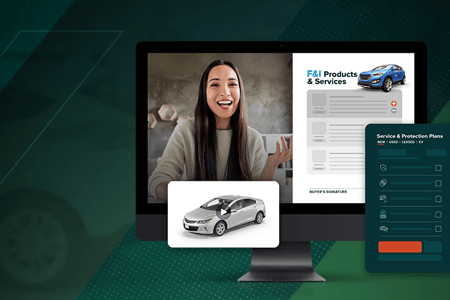 < 1 min read