Car Sales Career Advice: How to Become a Successful Auto Seller
Reputations can be hard to change, and no one knows that better than someone in the car business. Despite the drastic shift in our industry and the culture of a dealership, when some people think of a career in auto sales, they still imagine long work hours and stressful negotiations.
But the automotive retail industry is a lot different than it was in the past. Now, there are diverse and exciting new opportunities for job seekers.
The growing popularity of third-party websites - like Autotrader, Cars.com and CARFAX - has made vehicle pricing more transparent, allowing buyers to compare products and services with greater ease, according to research from McKinsey and Company. This has created a need for new, personalized conversations with highly informed customers.
As a result, many dealerships have started prioritizing communication and computer skills over the traditional hard closing techniques auto sellers are known for. The need to create more personalized buying experiences has also led dealers to onboard candidates with strong interpersonal abilities and a knack for relationship building.
One study conducted by Epsilon found that 90% of consumers find personalized shopping experiences appealing, and 80% said they were more likely to do business with companies that offer greater personalization.
Accommodating these shifting preferences has become a top priority for car dealerships throughout the country, especially those that want to meet sales benchmarks while fostering customer loyalty. To remain adaptable, many auto dealers are taking a closer look at their hiring efforts, placing greater emphasis on customer service and people skills.



Is selling cars a good job?
Working in auto sales can be both rewarding and challenging, and there is great value and long-term viability of a career in auto retailing.
One of the major benefits of selling cars is the possibility of earning commissions, which can run as high as 25% of front-end profits per sale on average, according to data compiled by the National Automobile Dealers Association. While it's true that commissions-based pay is starting to fall by the wayside, many dealerships continue the practice to ensure their high-performing salespeople are fairly compensated.
Like most other sales positions, becoming an auto retailer is all about understanding the needs of customers and recommending specific products or services that match their preferences.
Successful car salespeople embrace this challenge and are hungry to learn more about different makes and models, vehicle features, F&I offerings and the overall sales management process. As such, this role is well-suited to motivated individuals who want to take their careers and professional development into their own hands.
Despite the shift to e-commerce in recent years, consumers still prefer buying vehicles in person rather than online. As noted in a 2019 article from Automotive News about the shift from in-person to online car buying trends, nearly 81% of polled car shoppers trust the information they receive from dealerships, while 75% would not want to buy a vehicle without the help of a dealer. With this in mind, the need for knowledgeable and personable sales representatives won't likely diminish anytime soon. But what specific car sales career advice can help you achieve your professional goals?
Building a car sales career
Modern dealerships rely on the automotive knowledge, selling skills and interpersonal abilities of their staff, both for securing new car sales and increasing fixed operations purchases. While every dealership has its own way of conducting business, most have similar job descriptions for auto seller roles that can help you anticipate what to expect. According to job data compiled by Glassdoor, most car salesperson roles involve the following responsibilities:
Generating sales leads through customer interactions
Following up with potential buyers by phone, email or text message
Answering customer questions on the sales floor and car lot
Interviewing car shoppers to identify their needs and financial limitations
Coordinating with sales and F&I managers during negotiations
Organizing and participating in test drives
Unlike other career fields, becoming a car salesperson doesn't usually require a college degree or an extensive work history. Many successful auto sellers start their careers right out of high school and are able to earn a healthy living without prior sales experience. Of course, there are certain traits, skills and characteristics that help auto sellers excel in both entry-level and mid-career roles. So before you apply to an open position or seek out a promotion, be sure to consider what makes car salespeople valuable to their dealership and what attributes you have that match those needs.
Communication skills
The most fundamental qualification for a car sales career is the ability to communicate effectively with customers from diverse generational, cultural, ethnic and socioeconomic backgrounds. While working at a dealership, you'll encounter people from all walks of life and with very different car-buying needs. To truly meet and exceed their expectations, you'll have to first understand what they want, what they value and what they can afford.
Keep in mind, car buyers are people too, and many have dedicated hours to comparing vehicle features and prices online. In fact, a 2019 study by Cox Automotive found that the average consumer spends more than 13 hours researching their vehicle purchase. As a car salesperson, your job is to acknowledge the effort customers put into their decisions and help guide them to the point of sale. Additionally, while price negotiations aren't as stressful as they used to be, you may find yourself in some difficult sales conversations that will require both transparency and tact.
Interpersonal abilities
Another key car selling skill is the ability to form genuine relationships with customers that extend beyond the sales floor. This is because fixed operations, like vehicle maintenance plans and insurance packages, are major profit drivers for most auto dealers. While you may be excited about making a sale, it's important to also look for F&I upsell opportunities that will benefit both the consumer and the dealership.
As the desire for personalized buying experiences grows, auto sellers will increasingly rely on their people skills to foster long-term customer loyalty. Research from Limelight found that 54% of car shoppers are willing to pay more for a better buying experience. This includes things like offering reward programs and other incentives. However, regardless of the special offers a dealership may advertise, consumers rely on knowledgeable salespeople they can trust during their journey from shoppers to life-long customers.
Self-motivation
While selling cars isn't as labor intensive as it used to be, pursuing a car sales career may still come with long hours and challenging responsibilities. Most car salespeople work an average of 40 hours a week with a lot of potential for overtime. That said, auto sellers who are predominantly paid through commissions tend to work much longer hours.
Meeting monthly quotas can also be a point of contention, as dealerships expect their staff to help keep vehicle inventory moving. For self-starters, these conditions can allow you to earn more through commissions and learn a lot about the sales management process. On-the-job education and professional development are crucial to a successful car sales career, as new technologies continue to influence customers' buying decisions. If you're motivated to constantly expand your skill set and automotive knowledge, selling cars might be the perfect career path.
How to be a car salesman
Whether you're just starting out or have years of car selling experience, the best way to advance your career is to learn more about selling techniques, relationship-building strategies and negotiation tactics that actually work. While there aren't any college degrees specifically tailored to car sales careers, there are plenty of training programs that can help you build a strong foundation in auto retailing. Even after you've landed a sales job, most dealerships offer professional development courses focused on real-world business skills.
JM&A Group is dedicated to building the next generation of auto sellers through hands-on, in-depth training tailored to the modern dealership. Through our mini modules and webinars, car salespeople can learn key closing skills, effective interviewing practices, how to overcome customer objections and more. For those who are already working in car sales, JM&A Group also offers a comprehensive Skills for the Business Manager program that touches on the following learning areas:
Understanding customers' needs and sources of buying resistance
Car dealership operations, including sales, F&I and fixed operations
Structuring auto deals and point-of-purchase negotiations
Retail presentation and dealing with rate concerns
The psychology of selling and conversions
All training courses are designed using adult learning theory to help maximize retention, and many are supported by online resources and e-learning features. This helps ensure car salespeople can expand their product and professional knowledge without having to spend hours off the sales floor.


These may interest you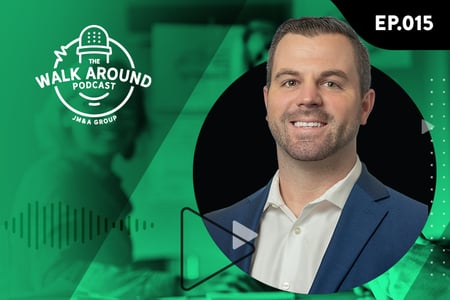 < 1 min read
Podcast