Solving Inventory Challenges with Virtual F&I
The COVID-19 pandemic has sent a shockwave through car dealerships. With halted manufacturing and chip shortages, many dealers can't keep enough cars in the showroom.
To keep up with demand and provide quality customer service, dealerships are getting creative. Times like these require innovation, and like many industries, that means going virtual.
One important tool to help meet the needs of today's customers is virtual F&I (VFI), which enables a completely online experience and extends a dealer's digital presence into the F&I process. 83% of consumers want to complete at least some of the car-buying process online, and virtual F&I allows them to do so.
Virtual F&I can be a part of the solution when you're facing inventory challenges by helping you create a consistent process, earn more sold orders and expand your audience and maximize every deal you get. Here's how:
Create a consistent process
At JM&A Group, we strongly believe that F&I managers should meet the customer where they're most comfortable. That used to be in person at a desk, but today, it's often online. That being said, not every customer will want to complete the process 100% virtually, so it's important to keep everything streamlined and connected.
Your virtual F&I process should complement and support every aspect of your dealership's strategy, from sales goals to customer preferences to digital retailing. Rather than an entirely separate process, think of VFI as an extension of your existing sales process, performed in a new and engaging way.
Ensuring your team has a process in place to help customers both online and in the showroom will create a consistent sales flow where the customer feels as little friction as possible. This translates to better consistency across your entire dealership, maximized deals, and improved customer experience and satisfaction.
The technology and expertise you choose to leverage is critical for success in this area. Select an experienced VFI partner who can help with building an efficient, consistent process that works for your team and your customers.
Earn more sold orders
To keep up with high demand, many dealerships are selling vehicles before they even arrive on the lot. Particularly in those cases, there's no need to bring the customer into the showroom for the buying process, as their car isn't there.
Offering a 100% online purchase process can be a huge selling point for sold-order customers, as it reduces friction and puts their safety and comfort first.
On the dealership side, selling products via VFI for sold orders is often easier than selling with the traditional model. Someone who has already waited weeks or months to receive their order just wants to get the keys and go — they don't want to hang out in the F&I office discussing options and filling out paperwork.
With VFI, on the other hand, the customer can order their vehicle and go directly into the F&I conversation. It's faster, more convenient and streamlines the process of picking up their vehicle when it's ready.
Sell outside your neighborhood
Thanks to the internet, modern consumers put a lot of research into their car purchases, and most are not willing to buy a car just because it's available at a convenient location. With low inventory impacting dealerships nationwide, more and more customers are looking outside of their neighborhood to find the specific vehicle they want.
Having an established VFI process enables you to attract consumers from outside your area and meet their expectations with a seamless process. A fully digital experience allows people from anywhere to place an order and start the buying process immediately, without the time and hassle of traveling to your dealership.
Maximize every deal
Maximizing the value of each sale is always important, and it's even more vital when you're working with reduced inventory. Getting the most out of each deal ensures that your limited inventory is still working for you.
Virtual F&I enables you to secure financing for customers and sell protection products even when the customer does not come into the dealership. This way, you can better meet their needs, address their concerns and reduce resistance.
VFI also introduces F&I earlier in the sales process to create a more streamlined experience, provide more transparency, and reduce friction, leading to faster, more profitable sales.
Conclusion
When inventory is low, virtual F&I processes can help you make the most of the situation. Making customers happy means meeting them where they're most comfortable, streamlining the purchase process and reducing the effort required to complete a purchase — all of which can be achieved with an effective VFI program.
As one of the largest independent providers of F&I in the automotive industry, JM&A Group can set you up for success and ensure you have the opportunity to thrive in any circumstances. Get in touch with us to learn more about our virtual F&I offerings.
While JM&A Group can assist you with setting up a virtual F&I process, JM&A cannot provide legal advice regarding state-specific regulatory requirements relating to the online selling process. Please consult your dealer counsel and dealer association for information on your state's regulatory requirements.
These may interest you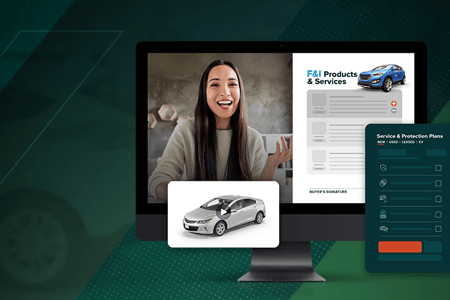 < 1 min read