The Challenge
Optimizing F&I performance
Dealerships of all sizes and specialties tend to hold a few universal goals regarding F&I: selling more F&I products per deal and earning a higher return per vehicle sold. Halleen Kia is no exception.
These objectives are worth focusing on because they allow dealerships to improve their profit margins on each sale. This added income is especially welcome at times when outside factors, such as supply chain shortages, limit the number of vehicles sold.
The F&I process realignment at Halleen Kia came from a desire to help the department reach its true potential. Working closely with JM&A Group consultants, the dealership group introduced a new system of focus meetings and F&I manager incentives. Monetary incentives are rewards paid outside of standard pay plans meant to drive behaviors that align results with the goals of the dealership. Because these incentives are outside of the pay plan and limited to small frames of time such as 30-60 days, they allow for flexibility which is useful in an ever-changing landscape.
The Solution
Collaboration on a new F&I process
The 2020 process refresh at Halleen Kia increased the cadence of F&I incentives and introduced new, larger-format meetings. Rewards for F&I sales are now given monthly, instead of being handed out once or twice per year. F&I focus meetings are also held every month, with dealership principals attending. Rather than simply going over the numbers, managers discuss current performance obstacles, role play customer friendly techniques, and share best practices with JM&A Group facilitating.
Monthly F&I meetings: A crucible of success
The more frequent meetings, implemented collaboratively by JM&A Group consultants and the dealerships' own teams, became a fulcrum of the new, enhanced F&I culture at Halleen Kia. When the whole team meets every 30 days, with leaders present, there is a greater sense of connection and accountability among F&I managers.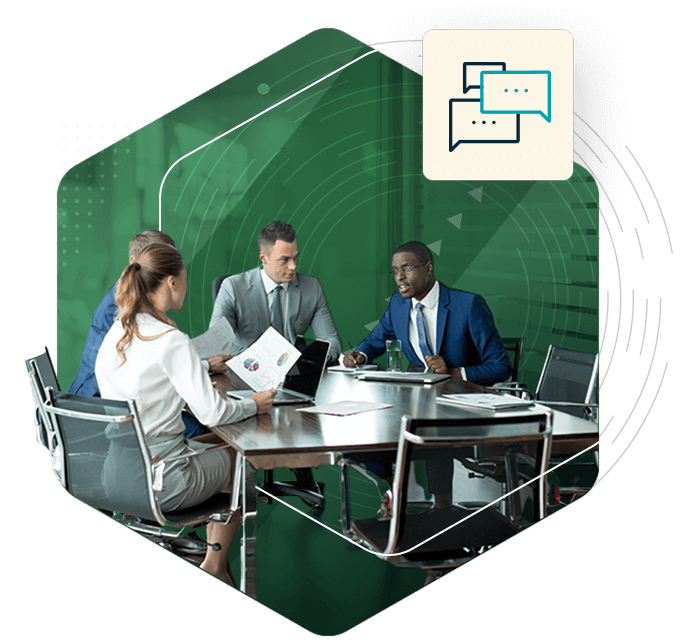 F&I managers are joined at the meetings by sales managers, along with the dealership principals. Rather than simply going over the numbers, F&I managers can share feedback, hints and best practices. These gatherings have enabled a culture of ever-increasing performance to take hold.
A culture of excellence
An engagement with JM&A Group isn't about imposing a new culture from outside. Rather, it's a collaboration between consultants and the dealership's existing staff. Newly implemented practices are designed to target the dealership's needs and amplify existing strengths.
The focus is no accident. The general process of enhancing dealership performance starts with culture. Such a methodical approach can help auto dealers build excellence into their practices, through an escalating series of changes:
Culture
Employees across departments have to understand that constant improvement is a central value for the business. Leadership buy-in is essential, as a new culture can't take hold without support from the top levels.
Behavior
Every employee has a role to play in building sustainable excellence. Highly engaged and accountable employees can push the business to new heights.
Performance
Workers performing at a high level to align themselves with the company culture can achieve impressive growth in the most important performance metrics.
The JM&A Group process is all about developing people and instilling repeatable processes that will serve the dealership for years to come. This makes it more useful than a one-off set of changes aimed at short-term goals.
Outstanding employees driving value
The engagement with JM&A Group and the implementation of the new meeting and incentive systems have served to emphasize one of Halleen's existing strengths: employees who are deeply committed to their work and ready to collaborate.
This level of engagement includes F&I manager involvement with the vehicle trade process. By understanding issues with customers' current vehicles, this associate can make sure to upsell the most relevant products for those buyers.
Since the debut of the new sales meetings, Halleen employees have only become bolder and more committed to their collaboration. From finance to sales, and F&I and upper management, the members of every department feel free to discuss their current work and best practices to keep processes moving smoothly. The ongoing result of this employee excellence has appeared in rapid boosts to key metrics.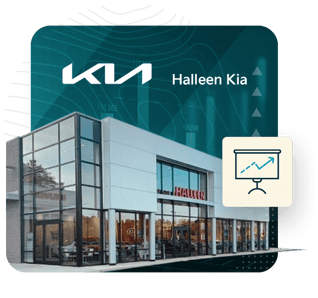 By the end of 2020, per-vehicle revenue has already demonstrated meaningful increases. In the months since, the trend has only continued.
The Results
Unprecedented year-over-year growth
The engagement at Halleen Kia focused on culture and processes, and on building an enduring pattern of continuous F&I improvement. The immediate and continuing impact on deal numbers proved the usefulness of this approach.
Per-vehicle revenue
PVR at Halleen Kia more than doubled between January 2020 and December 2021. This increase of more than 100% in PVR had already begun halfway through 2020 and continued through 2021.
Vehicle sales contract rates
As with PVR, VSC penetration more than doubled between the beginning of 2020 and the end of December 2021. The rate is now nearing 70%.
Product per deal
A similar pattern applies to F&I products per deal. The dealerships' PPD figures have nearly doubled during the two-year period. At over two products per deal now, the customer experience will only be enhanced though the relationships built in their service departments. This in turn will positively impact customer loyalty resulting in increased sales in the upcoming years.
Understanding there is no finish line, the Halleen Kia team is continuing to build practices that will keep them on a path towards growth. For example, the F&I managers, along with JM&A Group, have introduced a "Jeopardy!" game at the monthly sales meetings to keep product knowledge sharp. Understanding the importance of product knowledge when addressing customers' ownership needs, they make it fun with games to promote enthusiastic learning and keep team members engaged.
The goal for Halleen Kia and JM&A Group is to push the F&I growth as far as it will go, making sure the increased performance is sturdy enough to weather changes in any market conditions. Having cleared the hurdles they set for themselves, the dealerships' leaders are finding new objectives, and attaining them, with JM&A Group.
To find out how your dealership can push itself to new F&I heights, contact JM&A Group today.