How To Save Time In The Service Lane And Increase CSI
These days, convenience is king. Customers' time should be at the forefront of a service department's focus.

At the end of the day, nobody has time to waste. Everyone's time is valuable. When a customer schedules a time to come into a dealership, it's important to be respectful of that.

Here are five steps to get your customers in and out of the service lane in 25 minutes or less.
Step 1. Properly staff the service drive.
One service advisor should be able to handle 15 to 20 customers per day. Dealers perceive that hiring more service advisors increases costs, but they actually pay for themselves.

Being understaffed slows down the time in the service drive; an advisor can't do the necessary follow-up during the day if they are rushing from one customer to another.
Step 2. Tighten up the appointment system.
Most dealers have a good appointment system… do you follow yours?

Oftentimes dealership personnel abandon using an appointment system because a few people don't show up on time. In reality, most people do show up pretty close to their appointment time.

The key is to have a structured appointment and reminder system—and to make sure that everything gets entered into the calendar. This ensures that service advisors have sufficient time to work with customers efficiently.

How many times have you seen this scenario...you may have a service drive with four service advisors and make six appointments at the same time…

When you tighten up the appointment system, your customers are happier and they spend less time on the service drive.
Step 3. Follow a structured write-up process.
Sometimes we see service advisors simply follow a customer's lead in a service write-up. That can be inefficient, and a big time waster.

A structured write-up process starts with a smile, a pleasant greeting, and a conversation around the primary reason for the service visit. This should be followed by gathering vehicle information, a walk-around of the car, a courtesy inspection, writing up the repair order and confirmation of the correct contact information.

Having a simple structure like this that you or your team leads the customer through, allows you to design your process to be quicker.
Step 4. Actively listen to the customer.
Active listening shows the customer respect.

It tells them that the service advisor takes them and their time seriously and values their business.

If the service advisor doesn't do that, they can send the technician in the wrong direction. Now we're wasting everyone's time.

Even worse, it could anger the customer and waste additional time by causing an unnecessary second visit to have a problem corrected.
Step 5. Create a buying experience.
You've heard this before: people like to buy, they don't like to be sold.

A service write-up process is designed to create a buying experience. It's providing information so the customer can make an informed buying decision and it gets the customer taken care of quickly.

In order to create this "buying" environment, put your listening skills to work. Show customers you care by listening to their concerns and answering all of their questions. Be sure to provide all the information you can about the condition of their vehicle, so they can make informed buying decisions.

When a customer has control of the conversation, they are less likely to leave the service department with the feeling that they were "sold."
And as a result, they may even buy more!
These may interest you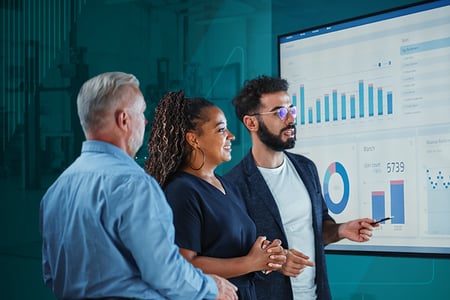 1 min read