Creating and Sustaining Effective Processes in the Service Drive
Creating new and more efficient workflows in your auto dealership's service drive is a great way to protect and grow fixed operations revenue. By targeting to meet or exceed industry benchmarks for markers like turnaround times and productivity per work hour, you can help your team achieve record profitability and income.
Consider the gold standard - a 100% absorption rate, where fixed operations revenue covers all your dealership expenses, rendering sales income pure profit. It's an attainable goal with the right processes in place. In fact, WardsAuto identified a top class of dealerships doing exactly that. To reach such an impressive level, you'll have to rethink the way your team members go about their everyday duties, and seriously consider enlisting the help of expert consultants.
A professional consulting engagement can involve education on best practices and guidance rooted in years of dealership fixed operations experience and knowledge. But there is a finite end date to that process, so it will ultimately fall to you and your leadership to ensure the new techniques stay in place for years to come. This need is especially reinforced when you consider employee turnover — you will need ways to ensure your dealership is still using top-performing strategies even as new members join the fixed operations team. By engaging your managers and key champions, you can incorporate these processes in training and onboarding to keep your momentum going and make sure those improvements stick.
Building a well-rounded improvement strategy for fixed operations can turn the department into a more reliable source of income over time, helping you make the most of the higher profit margins relative to new car sales.



What does service department improvement look like and what should your goal be?
Before considering how to create sustainable practices in your fixed operations departments, you first have to make sure you're making the right changes. The reality is, with the focus most often on the sales side of the business, that may leave your fixed operations teams with many processes in need of improvement.
Implementing changes is a huge priority for dealers today, with a different WardsAuto study confirming that 53% of respondents said they want to strengthen their fixed operations performance in search of better revenue.
Building a strategy for improving the service department means considering not just one type of labor use, but three:
Competitive labor, the low-margin services your dealership is using to keep costs down and stay ahead in its market and region
Maintenance labor, which consists of dealer-recommended services and delivers moderate hourly rates
Repair labor, the more specialized services that are responsible for the highest rates of return
Taking a closer look at statistics such as labor hours per type of repair order can be a great new practice for service department managers to use. This data can be broken down by employee or by vehicle stall, creating metrics that demonstrate the relative value of different operations. Equipped with this data, leaders can make impactful changes to the way they assign tasks to their workers.
But bettering the service department isn't just a matter of moving numbers in the right direction: There is a big human element to customer service. Creating new policies that take consumers' needs and preferences into account in every interaction can help your dealership inspire real loyalty. Oftentimes, establishing clear communications and setting expectations with customers will go a long way for retention and satisfaction.
Performing service in a way that will maximize profits and bettering customer service to improve retention are the core process enhancements that will drive results in the long run. This helps the company as a whole to thrive. Now, the question becomes how to ensure the practices are used for real, not just on paper.
How do you make good fixed operations practices stick?
Making your positive changes become part of your company's culture is an essential stage of the improvement process. Better margins from fixed operations, year after year, are far more valuable than a temporary blip. Locking in change is especially important when you consider that the team's composition will inevitably change.
Turnover is bound to happen in any business and is a common occurrence in the automotive space. Automotive News cited research from NADA that found nearly half of service advisors change jobs annually. You must ensure that even once new people join the service department, the data-driven processes and customer service priorities will stay in place.
Getting managers involved is a key way to create a culture of improvement that your service workers will actually respond to and follow. When section and team leaders have been fully brought into the new practices, adoption of these strategies becomes natural. Leaders who are strong motivators and communicators are especially valuable in this regard.
The end goal here is alignment: The Society for Human Resource Management defines this alignment as shared characteristics at every level of the company. When people in every service department role understand the value of the new customer-centric, metric-driven way they are handling their tasks, the practices will become accepted within the organization.
A dealership with a good process improvement infrastructure is one that knows what it does well, what it could be doing better and how to keep moving in the right direction. Creating this type of environment is made even more successful and efficient through an expert consulting engagement targeting fixed operations. Service, parts and sales teams will be given a framework that can be built on for years to come.
Is your dealership ready for a lasting fixed operations transformation?
There is always room for improvement; a profit margin that could be higher, resource utilization that might be better, inconsistent employee education in need of standardization. By engaging in a customized expert consulting engagement targeting your fixed operations needs, you can build up the percentage of revenue coming from these services, safeguarding the future of your dealership.
For more information on making lasting improvements in fixed operations, download our ebook, The Fixed Operations Growth Plan: 6 Paths to Service Department Profitability.
These may interest you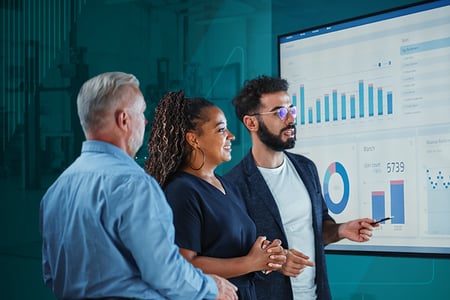 1 min read