5 Modern Retail Trends Automotive Dealers Should Know
In recent years, and especially during pandemic lockdown measures, the rise of digital retail has become increasingly apparent. Modern retailers have redefined the boundaries of what can successfully be sold over the internet, as well as the types of quick and efficient customer experiences shoppers have come to expect. Now, with a whole new landscape emerging, your dealership must find its place in the evolving industry.
5 Trends That Define Modern Auto Retail
To keep up with fast-moving competitors and deliver the types of experiences your customers are looking for, you should monitor these 5 developing trends impacting modern retail and ensure you have answers to the important questions they raise.
1. Competition Extends Beyond Your Local Market
In the brick-and-mortar dealership structure, you've always had to contend with your local competitors. Now, with all-online retail becoming a more viable way to buy and sell cars, geography is less of a factor when customers start shopping. And there are several retailers selling and delivering vehicles directly to consumers. In industries that support digital sales, the playing field is open to more types of operators.
According to Deloitte consumer research, 60% of study respondents are interested in purchasing a vehicle directly from the manufacturer, which is a "wake-up call" for dealerships. People are interested in buying cars online with as few hurdles as possible. By becoming more digitally enabled, you can give them the experience they're looking for and encourage continued loyalty.
2. Communication is Key
How do you communicate with your customers? Do you have the capability to reach out to people with the right messaging, through a large variety of channels, at just the right moment? Digital-native companies have been consistently raising the standards in this regard, increasing pressure on all other businesses, auto retailers among them. McKinsey & Company indicated the standards being set by Airbnb, Amazon, Uber and other fast-moving companies should inspire dealers' communication strategies in a more modern era.
What do those organizations have in common? They connect with their audiences through methods that collect a large amount of data, thus allowing them to learn more about their customers and deliver the right message. This type of contact is possible in the automotive field, if not quite to the level that an app-based company can accomplish. Your website and mailing list are excellent sources of customer intelligence if you optimize data collection and analytics. If you have a CRM, each touch between a customer and your brand can become a piece in a detailed profile, allowing you to further sharpen your targeted communications and deliver ideal messages at perfect moments.

3. Your Website Must Keep Up with the Times
When customers spend more time on your site, they're giving you more data, making it important for you to increase their engagement. However, a separate Deloitte study stated that few auto sellers have optimized their sites for maximum convenience and value. As long as shoppers can find what they're looking for on your site, this takes away their incentive to make extended searches of OEM pages or third-party marketplaces, allowing your dealership to continue its engagement for longer.
Everyone benefits when you put extra effort into the digital retail side of your website. The customer gets the information they are looking for on makes and models, options, F&I and every other detail that will help move them along the path to purchase. You receive useful data that can help you complete the sale. To finish this process in an ideal fashion, the online and in-person experiences need to be seamless.
4. Your Digital and Brick-and-Mortar Offerings Must Connect Seamlessly
Starting an auto purchase with a long period of online research and then moving to a physical dealership is a common customer journey today. As a modern retailer, you need to support this path. People who have performed actions online like customizing vehicle options and performing considerable research want to feel the online experience has saved them time, and that the dealership can pick up the journey where they left off. You have to connect these parts of your business and create a seamless experience.
The digital age, with all its quick conveniences, has created new expectations. Your dealership is represented on your website, so people expect it to be tightly connected to your in-person showroom. If people feel like they can't pick up the buying process where they left off online, the breakdown in the buying journey may cause unnecessary frustration. By collecting customer data in a centralized database, you can help streamline the path to purchase and remove potential hesitation.
5. F&I Has Gone Digital
For years, F&I has been the sticking point preventing digital sales from happening entirely online. Now, this has changed. When you add the online features to support Virtual F&I and train your personnel to become VFI managers, you can offer a new and convenient option that will help get vehicle sales across the finish line. VFI calls can be refreshing for customers, allowing them to feel in control of the process and finish their transaction from the comfort of their own house. VFI managers, too, can perform research and suggest F&I products perfectly suited to a customer.
It's possible to upsell retention products in VFI meetings that will keep customers loyal and engaged for years to come, while building the same rapport that has always been a feature of F&I meetings. Giving your team the appropriate training and tools to operate in this new, online setting is key to tackling the five trends.
How JM&A Can Help You Go Digital
Your dealership's transformation is an important priority, as this is the way to stay relevant in a rapidly evolving space. This evolution should come with a clear strategic roadmap, training for essential personnel, and monitoring over time to observe the results and suggest improvements. That is the type of experience you get when you partner with JM&A Group.
Learn more about how we can help your dealership enter the digital age.
These may interest you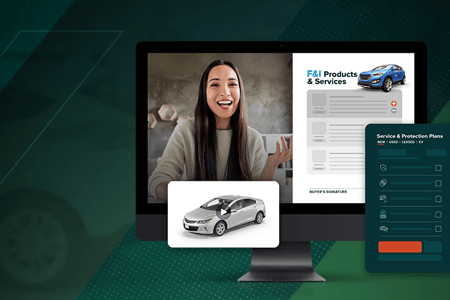 < 1 min read