Key Takeaways
Cash and lease transactions continue to take a bigger piece of car deals, impacting finance purchases and opportunities for F&I profitability
F&I core contract sales and products per deal are on an upward trend from Q4 2022, but still below the first half of last year
Inventory is still coming in waves with some manufacturers having trouble maintaining stock and others seeing vehicles sit on their lots
With inflation on the rise, taking a proactive approach to managing reserves and responsibly adjudicating claims can protect your profits and reputation
This Automotive Trends Report combines aggregate data from more than 1,700 dealerships nationwide and expert analysis to give you all the information you need to set your sights on growth and productivity for today and the future.
Created with dealers in mind, this comprehensive overview of F&I performance, sales numbers and industry data is a quick glance at the key trends you need to know to see how your performance tracks with other top-performing dealers.
Check out the video from our assistant vice president of sales, Ian Hunter, for an overview of what you'll see in the report below.
Sales Performance
The economy continues to impact performance in product and car sales as customers worry about the uncertainty of interest rates and vehicle prices. Many remain priced out of the market or end up paying more than they anticipated. With a number of factors outside the control of consumers and dealers, it's important to focus on the metrics within your control to capture key opportunities for profitability in F&I and vehicle sales.
With incentives still hard to come by from most OEMs, captive finance companies and lenders, finding areas to save customers money and build trust can result in significant gains in other profit centers like F&I.
While many of the results of 2023 year-to-date you'll see in this report are lower than performance we saw in the same time last year, it's important to note that these are signs that our industry is starting to normalize.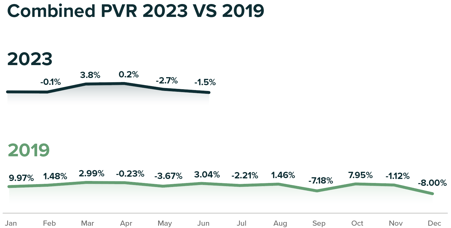 Looking at 2023 YTD vs all of 2019, you'll see that PVR totals are significantly above where they were, showcasing how profitability is still high, but the trend lines are very similar. It's important context to keep in mind as we review sales figures and strategize for the rest of 2023.
F&I and Front PVR
As we come off the highs of the last couple of years, PVR is beginning to settle into a more normal range. And while significant increases in PVR may not be on the horizon, this stabilization will enable dealers to find efficiency gains that can result in higher profitability.
F&I PVR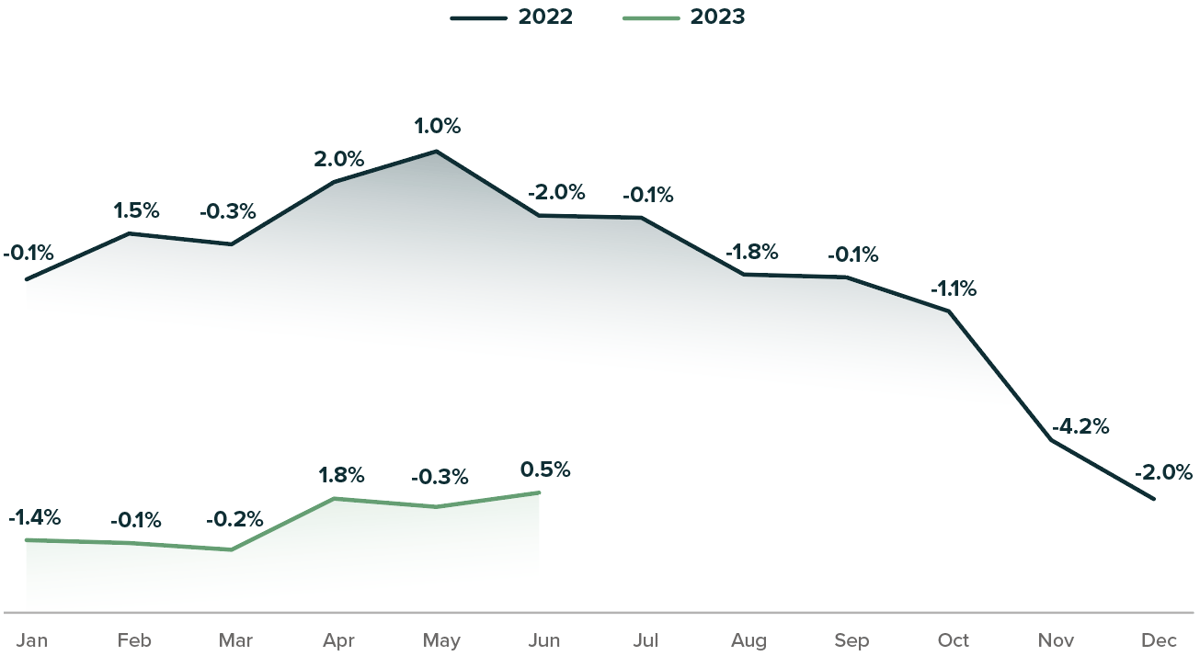 If interest rates stabilize or go down and more inventory enters the market, we can expect PVR to increase along with those affordability trends through the end of the year. Of course, as incentives return to automotive retail, this will positively impact dealer earnings as well.
Front PVR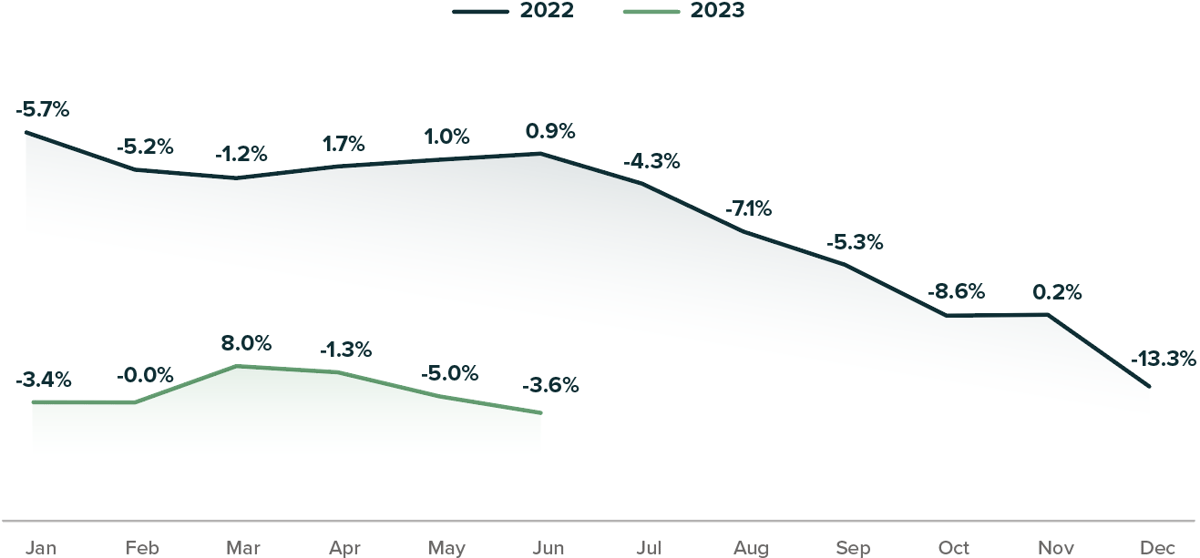 Vehicle Sales
Car Sales Fluctuate Amid Industry Uncertainty
The automotive industry has been on a wild ride the past few years, and in just the past 18 months, we've seen significant changes in sales volume.
While car sales dipped to the lowest levels we've seen recently in February 2023, we quickly regained as the warmer months tend to see much higher sales levels. As the trend line bounces, we see evidence of uncertainty in the market, but as inventory levels return across OEMs, sales figures will inevitably increase at a more stable rate as buyers seek to replace their aging vehicles.
Car Sales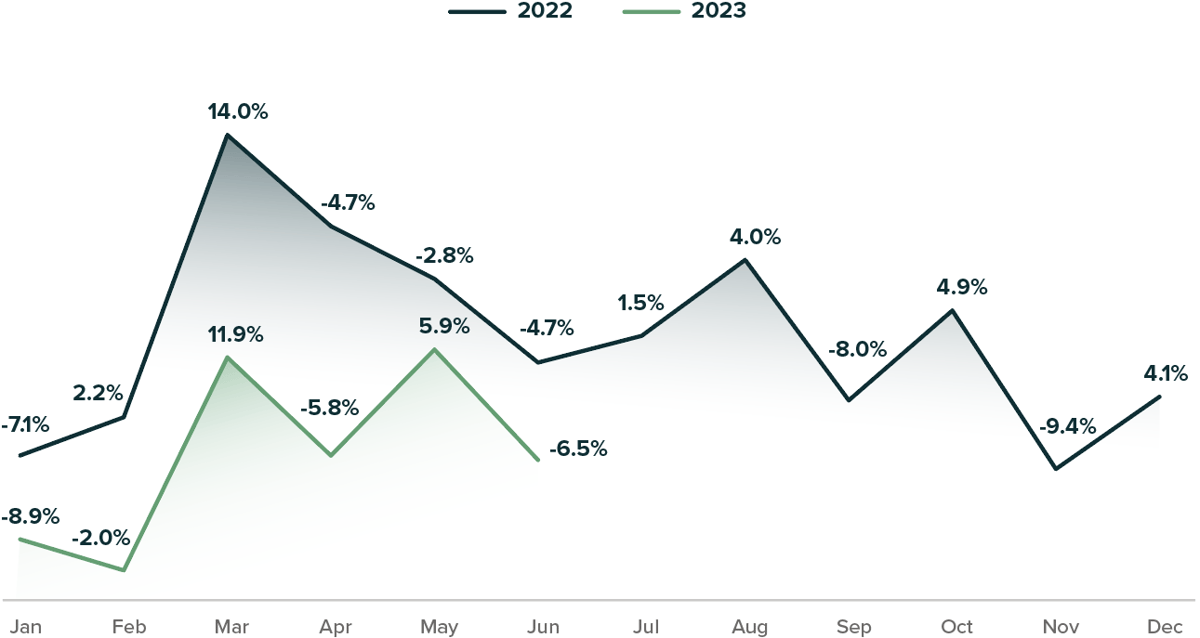 Vehicle Protection Product and Service Contract Sales Improve
Despite a dip in May, vehicle service contracts (VSCs) have been recovering throughout the first half of 2023, an improvement from a downturn in the latter half of 2022.
As dealers focus on moving inventory, used car sales present a greater opportunity for VSC sales than new, but it's important to showcase the value for protection products to both new and used car buyers. However, as lease and cash deals gain traction, many dealers have a harder time selling contracts.
Having a full suite of F&I products that cater to the non-finance customer will enable you to maximize transactions with relevant and cost-effective products to enhance the ownership experience. Consider products that offer terms catered to short-term ownership like Term Care Select that can give customers peace of mind in their purchase.
VSC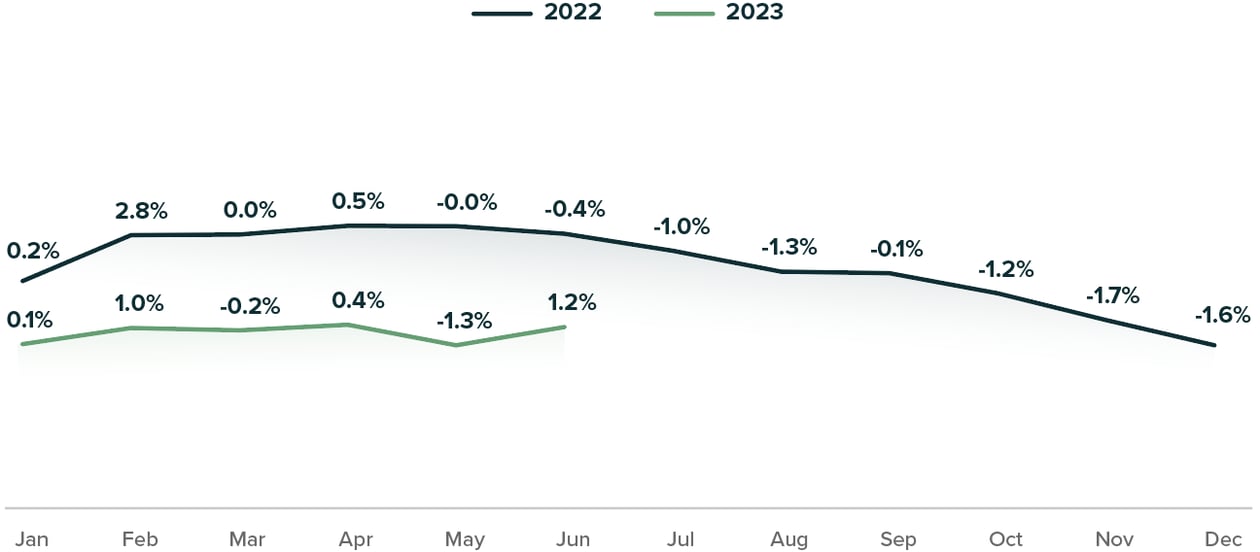 We see a similar trend to VSC sales for total products sold per deal, with a net gain so far this year putting us back at levels seen toward the end of 2022. Since this trend is representative of all F&I products, it's worth reinforcing the need to double-down on core product sales like VSC, GAP and pre-paid maintenance as well as offering ancillary products like technology, appearance protection and road hazard tire where they add value to your customers to help drive PPD up.
PPD



Tips to Drive Sales Performance and F&I Revenue
As customers nationwide experience negative equity with the drop in used car values, higher interest rates and insurance costs and sky-high vehicle payments, the importance of quality service and empathy in the dealership has never been more important. Soft skills in customer service must be blended with advanced sales skills to create more space for F&I profitability while staying mindful of customers' wallets.
Dealers who want to stay ahead of the curve should strengthen their F&I techniques to showcase the importance of protecting a high-cost purchase while also trying to save the customer as much as possible. As inventory rebounds, many OEMs have reinstated cash incentives to help with affordability concerns while also continuing to sell through incoming vehicles. Those cost savings can help customers save cash and leave more room for F&I product purchases.
And while most finance managers don't see value in a cash or outside finance deal, there is opportunity with every customer, and as these transaction types increase, you won't want to miss out on those conversations with customers walking into your store ready to buy.
Automotive Industry Updates
High Interest Rates Continue
Following hikes through February, new and used car interest rates had flattened out, giving buyers some respite and a bit of confidence to head to dealerships. And for the first time in recent memory, new car interest rates actually dropped a couple of points.
New/Used Interest Rates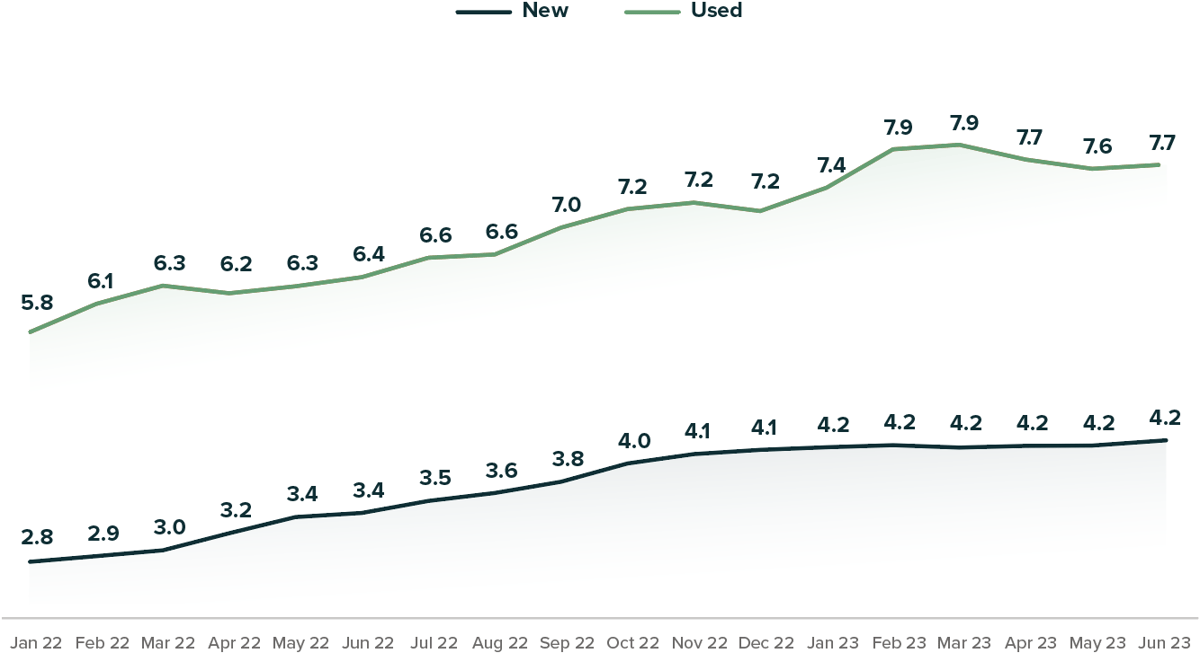 Then, in July, the federal government announced yet another interest rate hike, the 11th since March 2022, and another challenge for vehicle affordability. As we follow interest rate trends throughout the back half of 2023, dealers and consumers alike wait to see how additional raises or pauses will impact automotive retail.

Lease and Cash Deals Make up More than 1/3 of Transactions
With vehicle payments and interest rates at a record high, it's no surprise that many customers have opted to lease, which offers a lower payment, or pay cash to avoid paying interest on their car purchase.
Combined,

lease and cash deals

represented

37% of all car sales

in May and June, up from just 30% in early 2022.
And while finance deals still make up a majority of transactions, a drop of 7% represents not only a significant volume, but also significant opportunity lost for additional profit in the form of F&I and finance deal commissions.
As those customers who can afford to are putting down more money in the form of cash deals and leasing is going up due to high sticker prices on new and used vehicles, VSC product sales volume can decrease. Dealers should anticipate this trend continuing while interest rates remain high and have a plan to double down on other profit centers. One way to accomplish this is ensuring your finance team is equipped with the knowledge, processes and products that are ideal for these types of purchases to help drive contract sales.
Deal%


Are New Car Sales Finally on the Rebound?
And as more new car inventory enters the market, Q2 2023 has shown the biggest difference in new vs. used car sales in more than 18 months with a 60/40 split. This could be the indicator that supply chain issues are finally resolving and that customers are ready to turn in their old cars for something new.
New/Used Deal %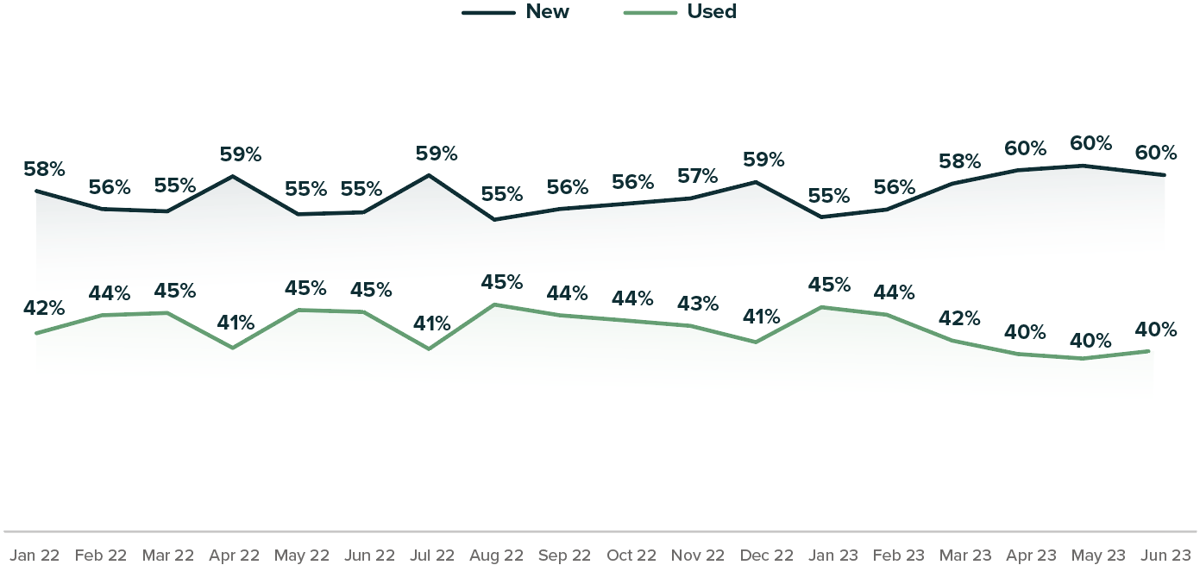 Used Car Values on the Decline After Big Upswing through Q1
Used vehicle values in June 2023 were down nearly 25 points according to the Manheim Used Vehicle Value Index, and despite a peak at the end of Q1, values have fallen consistently since. The last time values were at this level was nearly two years ago, in August 2021. As more new and used inventory becomes available, the law of supply and demand will come into play, and we anticipate these values will continue to decline.
Manheim Used Vehicle Value Index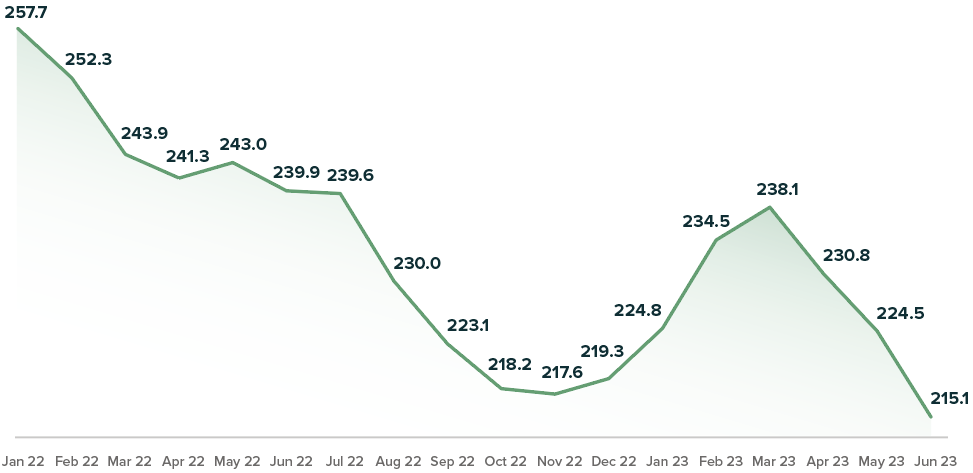 Vehicle Sales Prices and Days on Lot Tell Story of Supply and Demand
The value of new cars largely plateaued the first half of 2023, while days on lot increased by an average of 10 days as compared to the same time last year. Conversely, days on lot for used cars has decreased by 5 days since the beginning of the year. Notably, despite the Manheim UVVI showing a sharp decline in used vehicle values, our surveyed dealers show a steady increase in sale prices.
Used Car Prices vs. Days on Lot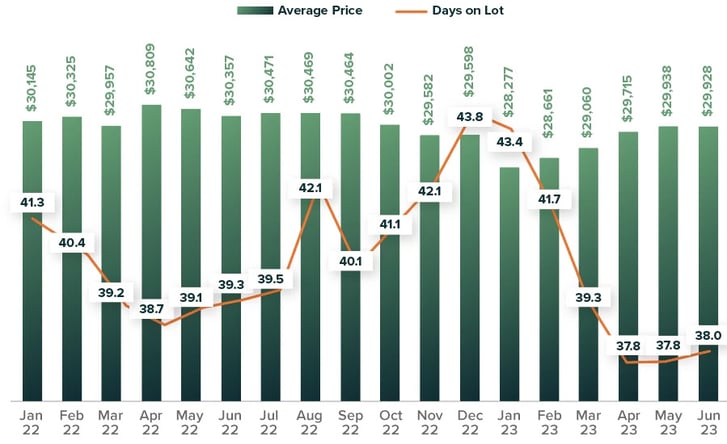 This showcases that, even as overall values go down, demand in specific areas, or for certain makes and models is very high. People are still willing to pay a premium for quality vehicles, especially those that are not as readily available in the market, and this is a phenomenal opportunity for dealer profit. As long as this environment holds up and until the market sees a significant upswing of new cars, demand for this segment will remain high.
New Car Prices vs. Days on Lot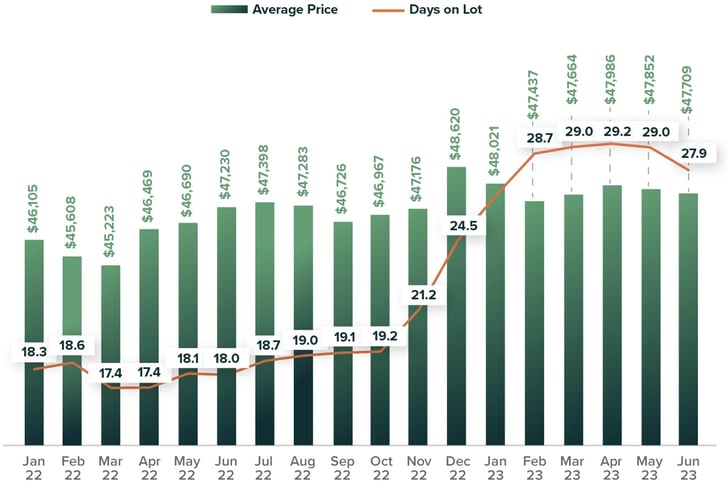 Key Market Factors Still Have a Stronghold on Automotive
We know, you're tired of reading about inflation, interest rates and inventory (Is anyone calling them the "3 Is" yet? Dibs.), but these indicators have all to do with the auto industry's performance in good times and bad. These trends continue to provide opportunities and challenges, but there are always ways to outperform. In fact, you can check out last quarter's Automotive Trends Report for ways to innovate and boost revenue.


How Inflation is Impacting Costs for Consumers and Dealers
Prices have been driven up steadily over the last few years, and we see it across the board – not just at the grocery store when you're trying to buy a carton of eggs.
As people return to their regular commute and put more miles on ageing cars, claims have naturally gone up. And with inflation, the cost of labor and parts have gone up as well, making claims increasingly more expensive to pay out.
The impact here is twofold.
Motor Vehicle Maintenance and Repair in U.S.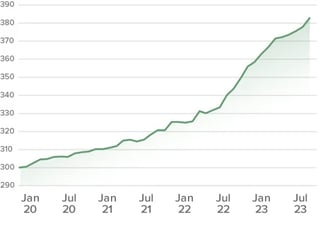 Source: St. Louis Fed
It's a great time to sell service contracts because they support a very necessary part of vehicle ownership, and the value is clear to customers because of the increasing costs to maintain and repair their car.
At the same time, dealer profitability can take a hit due to the costs of claims. It's crucial to work with an F&I provider that takes a proactive approach to reviewing and managing reserves and is responsibly adjudicating claims. Ensure your partner has a strong underwriting process to appropriately, fairly and honestly approve claims to protect your profitability as well as your reputation.
Working with a partner who manages reserves and claims costs on your behalf can help lighten the load and provide clear direction for strategic cost adjustments that can work to the benefit of your dealership, finance team and customers.
Overcoming Obstacles to Find Dealership Profitability
As "normalization" looms over the industry, pressures on profitability remain. With more new cars on the lot, floor plan financing costs go up and there is less room to make money on each sale. But there is always an opportunity to pivot.
Finding financial support from high margin areas of the business like service and parts can help ease the strain on the sales side.
As banks become more reluctant to offer auto loans, dealer relationships with lenders and captive finance companies can be leveraged for dealer and customer benefit.
If you haven't yet, it's time to start thinking about your business the way you did in 2018. Margins will be compressed, so finding other avenues of profitability will keep you ahead of the game. Continuing to follow the trends, remaining agile and pursuing a top-notch customer experience will always lead you to better outcomes.