Key Takeaways
PVR declined in 2022, but has largely maintained this year, despite predictions otherwise
Car sales rebounded in March, and are expected to continue upward
How inventory changes this quarter affect sales
How an increase in cash deals and a decrease in financing are impacting profits
New for this edition of the Automotive Trends Report, is a 15-month historic look at data, which enables you to review and compare Q1 2022 with this quarter. This helps provide a more complete picture of how the industry is changing, rebounding and adjusting to the numerous economic factors affecting pricing, buyer habits and overall dealership F&I performance.
Our assistant vice president of sales, Ian Hunter, provides us an overview of what you'll see in the report below.
Sales Performance
New car supply continues to be tight for many import brands, while domestic OEM dealership lots have begun filling back up.
The tailwinds of used car value hikes remain, which has helped pre-owned departments and is helping to stabilize overall sales. However, interest rates are consistently 3-4 times higher than the industry has historically seen, which impacts affordability and requires dealership staff to double down on every sale opportunity to find revenue.
Finding ways to maintain profit at your dealership requires a methodical approach to understanding the trends and your consumers' needs.


F&I and Front PVR

We have seen some glimmers of progress as dealers posted marginal gains in F&I PVR and a promising start to the year for Front PVR. While earnings are still well below what we saw in early 2022, this trend exceeds original projections of a continued decline in these areas.


F&I PVR
While market factors continue to challenge automotive retail, dealers can expect PVR numbers to stabilize as the industry normalizes.


Front PVR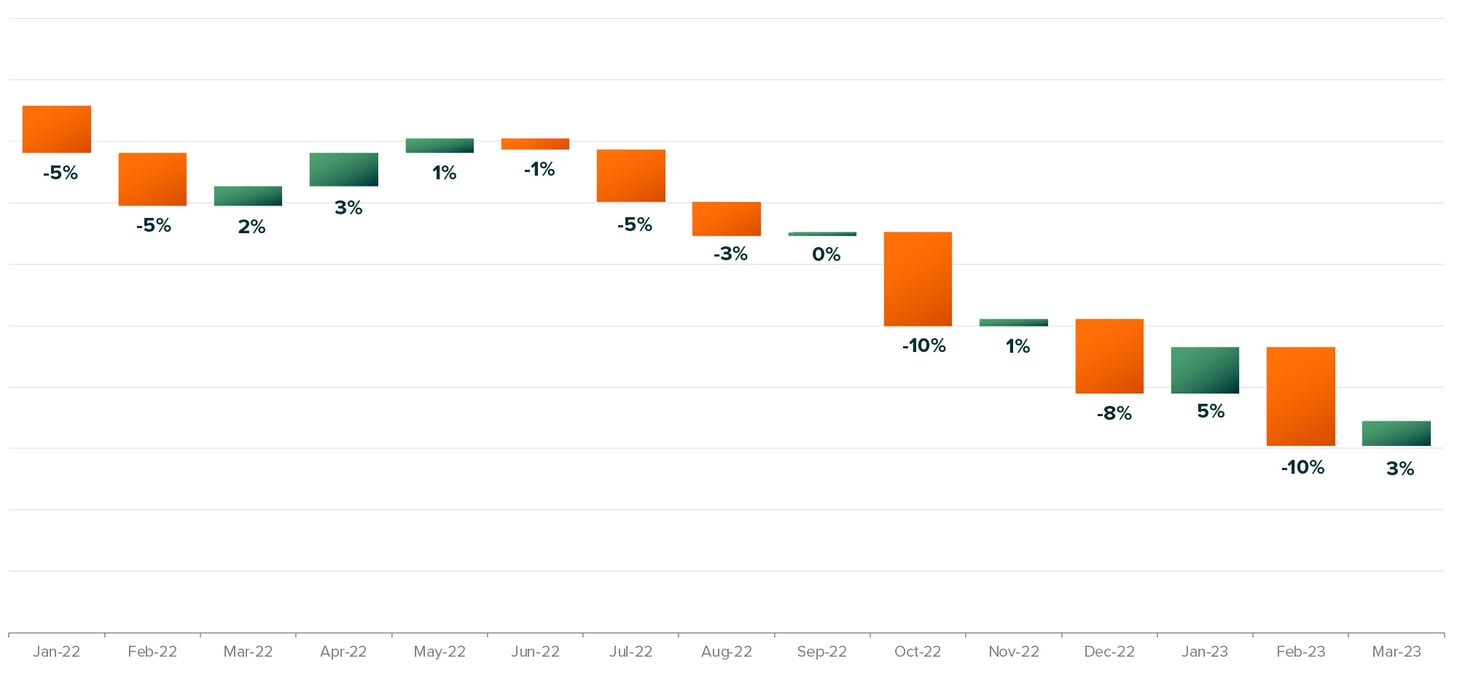 As inventory rebounds, supply and demand may start to balance out, but high interest rates, inflated prices and minimal incentives are still hurdles to overcome as buyers hold off purchasing with affordability being a major roadblock.

Vehicle Sales
Car Sales

and Inventory

Beginning to Rebound
Car sales increased significantly in March after declines in both January and February. March is traditionally a big volume month for sales, and we expect this trend will continue into the year, albeit at a slower pace than we saw this month.


Car Sales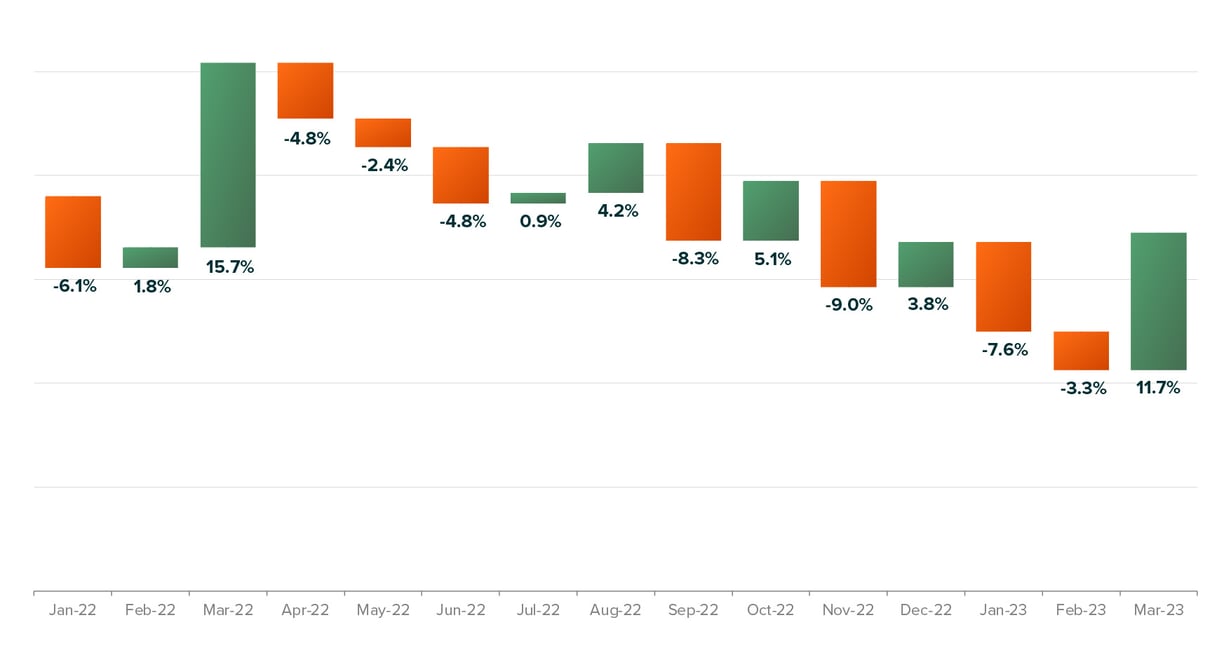 Despite the dips in the back half of 2022 and early 2023, sales volume is back to levels we saw in early 2022, an indicator that the inventory coming into dealership showrooms is selling through to customers. Factors that will contribute to these numbers are pent-up sales demand, inventory production levels, interest rate stabilization and low unemployment.
Vehicle Protection Products and Service Contract Sales are on the Upswing
VSCs declined through the second half of 2022. Fortunately, we've seen a steady increase through the first quarter. While contract sales volume is still below where we were this time last year, dealerships are seeing an increased demand, due in large part to sales of higher mileage used cars, which have a high VSC sales penetration.


VSC
We see a similar trend play out in overall products per deal (PPD). Numbers increased steadily in early 2022, then declined into January before rebounding in February and March. Affordability is a strong factor in product sales, so interest rates and high car prices will inevitably impact F&I product purchases.


PPD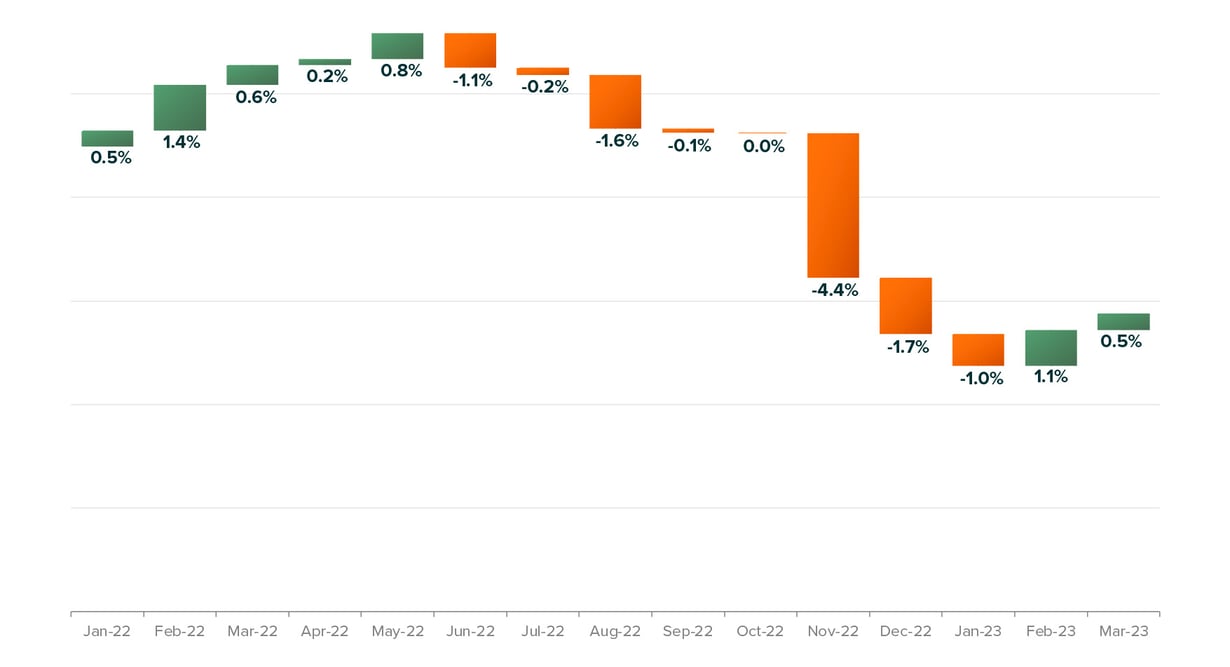 It's important for dealers to reinforce following processes to help strengthen sales and see these numbers continue to climb and support overall profitability.
Tips to Drive Sales Performance and F&I Revenue
It's worth underscoring the fact that there is still a lot of pent-up demand coming to the market. As people put off car buying through the pandemic and then faced inventory shortages, many are coming up on close to 5 years since their last purchase.
If interest rates stabilize, strong demand should continue through 2023. The key is being prepared once those customers come through your door (or to your website).
To excel and outpace the competition, it's critical for dealers to train their staff on reinforcing the value of vehicle protection products to consumers, especially in a market where inflated prices can be found in every area of retail – including parts and labor prices for vehicle maintenance and repair.



Tip: Train your staff to reinforce the value of vehicle protection products to consumers to excel and outpace the competition.
Dealers whose sales strategies align with helping to alleviate customer pain points and enhance the quality of the buying experience will see profitability above the current market trends.
F&I continues to be a core source of revenue for dealerships. Offering cost-efficient options to consumers to protect their investment in a vehicle can help them offset expenses in the long run. Finding a balance between dealership revenue and customer value and satisfaction will be a long-term win-win.
Automotive Industry Updates
This data shows how economic factors and consumer buying habits impact vehicle sales on a national scale. You'll see these represented in overall deal percentage (lease, cash and finance), used vehicle values, and average car prices compared to the days on lot (new and used).

Interest Rates Continue to Impact Lease and Finance Car Deals
It's no surprise that high interest rates impact affordability and make it more difficult for customers to finance a vehicle. Financed cars represented 64% of deals in March, the lowest number we've seen in quite some time. While lease deals have gone up a bit to 10% of overall sales, cash deals have remained at or above 20% for six months.


Deal %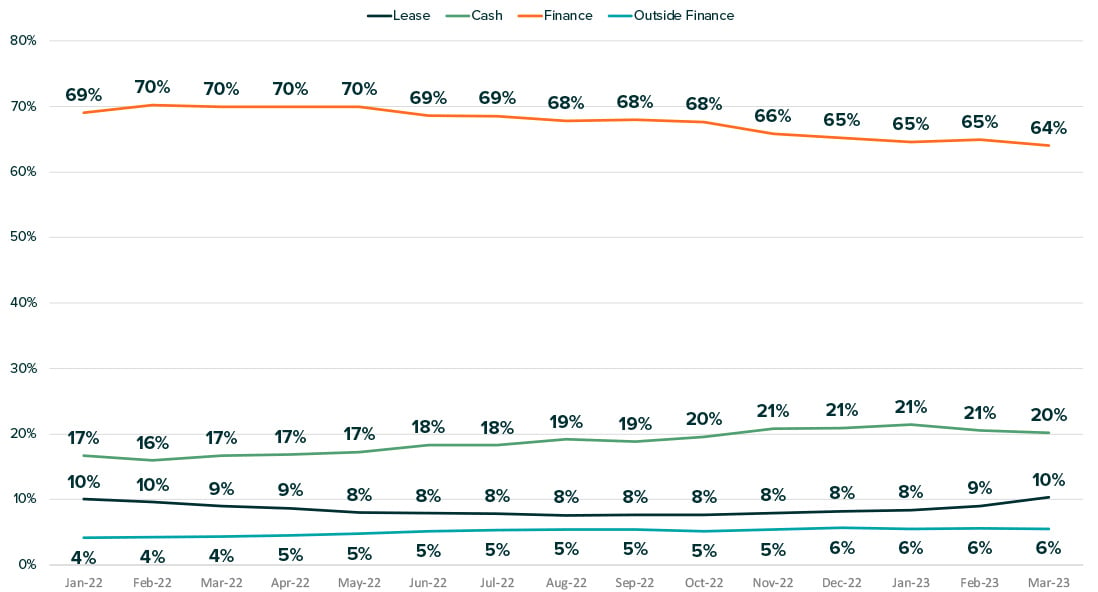 Used Car Values are Back on the Rise
According to the Manheim Used Vehicle Value Index, in Q4, the value of preowned vehicles reached its lowest point since early 2021 and has climbed steadily since then to levels we saw in Q2 2022. Projections that used vehicle values would continue their decline into this year were proven incorrect due to ongoing new car supply challenges.


Manheim Used Vehicle Value Index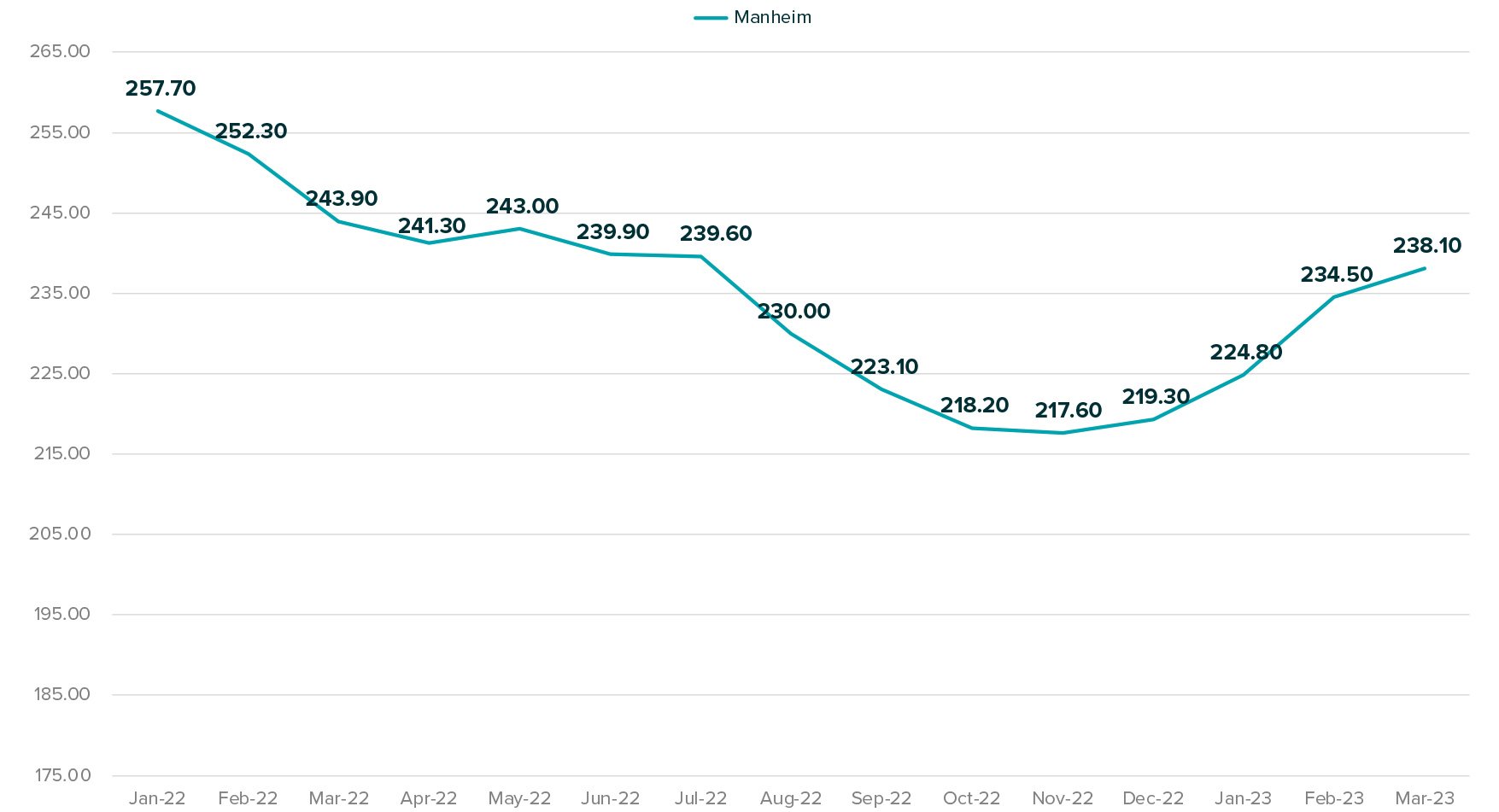 Used and New Car Prices Compared to Days on Lot
The average price of a used car has climbed to $29,060 in March after dropping more than $1,000 from December to January. Days on lot averaged just 39.28 days in March, the lowest turn time reported since May 2022.


Used Car Prices to Days on Lot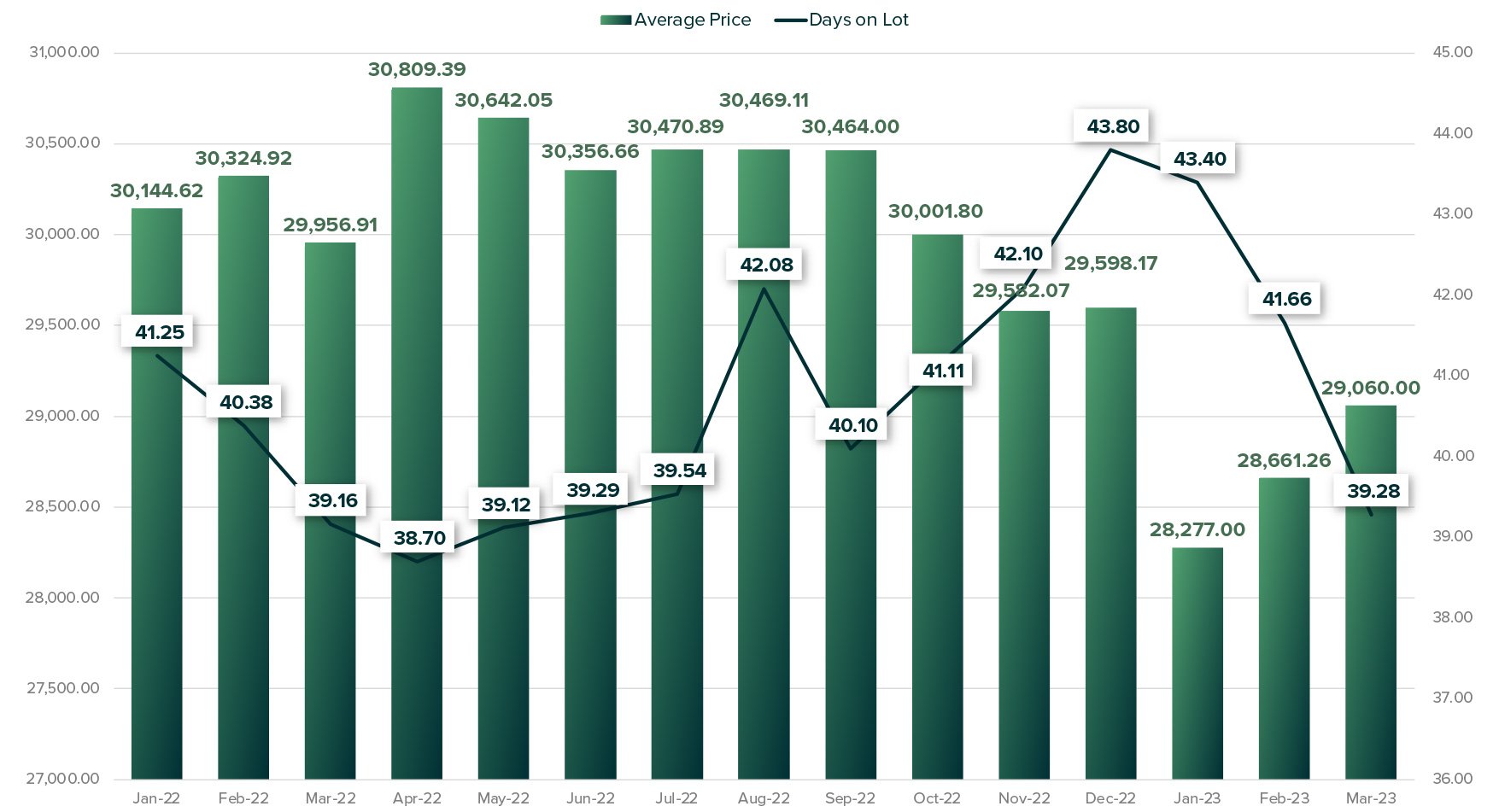 New cars painted a steadier picture in Q1, with days on lot on a consistently upward trend since October, though that increase plateaued a bit in March to just over 29 days. After a price spike in December, new car values are holding at a relatively consistent level.


New Car Prices to Days on Lot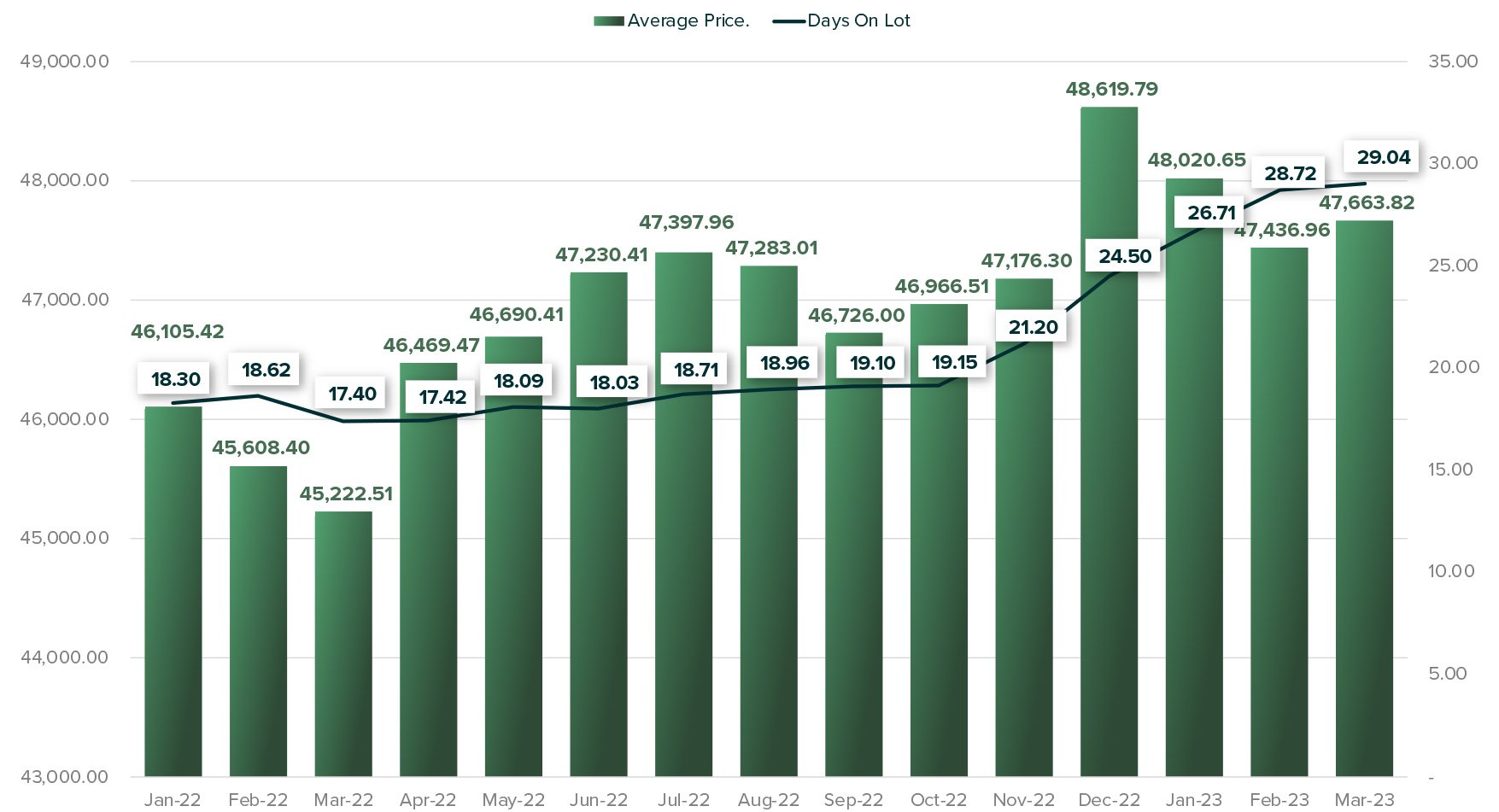 Inventory and Interest Rate Impacts on New Car Sales
In Q1, as inventory levels rebounded, auto loan interest rates were at the highest level since 2008, which placed vehicle ownership out of reach for many interested buyers.
According to Edmunds, a staggering 16.8% of consumers who financed a new vehicle in Q1 2023 committed to a monthly payment in excess of $1,000. This is up a full point (15.7%) from last quarter and up significantly compared to Q1 2022 (10.3%).
Consider Key Value Points to Boost Revenue and Save Customers Money
It is often true for individuals and businesses alike that spending responsibly can enable long-term savings. Examples of that for the dealer-customer relationship are:


Creating value through the sale of vehicle protection products
Providing a holistic buying experience with insurance offerings
Reinforcing added benefits of CPO programs on used vehicles


While many customers are feeling the pinch of increased interest rates, reduced incentives and more, especially when making a major purchase like a vehicle, educating them on where savings can be found can help boost F&I sales.
Reinforcing the value of your product menu to customers can shed light on the protections they offer – for instance, removing the need to pay out of pocket for vehicle repair or tire replacement in the future, when the cost of goods and services may be higher. Doubling down on that reassurance can boost customer experience and sales.
Dealers can also stand out and maximize sales opportunities in your used car sales department. A solid CPO program, bolstered by a well-trained staff who can communicate effectively with customers can be a real differentiator. As buyer hesitance around purchase prices remains high, being able to express the benefits of your certified pre-owned inventory can boost consumer confidence, create a better understanding of the vehicle's value and bring reassurance and trust to the car buying experience.
The Auto Industry is in Pursuit of Innovation
Whether it's shifting consumer demands, vehicle evolutions, powertrain alternatives or autonomous driving technology, there is no shortage of interest and excitement in the quest for innovation. As we seek to further transform our industry, Automotive News reports that investments in vehicle technology now outpace other industries by a significant margin. As OEMs vie for patents to advance their brands and vehicle lineups of the future, so do battery companies, suppliers, tech firms and others seeking to make their mark in the automotive space.
In an industry once branded for its stagnation, this fast-paced race to the future is as unpredictable as ever. And as the competition builds and consumers increasingly gain interest in the latest and greatest, dealers must be ready for the competition from DTC brands as well as brick and mortar stores, and the increasingly large hybrid business models. Choice is the word of the day for our customers, and staying ahead of the market will require an intensely buyer-focused approach, adaptability and a strong digital strategy.